Local beatboxer breaks it down for the Hogan Entrepreneurs
After being struck by a van at the age of 21, Jason Tom was hit with the realization of what he was doing with his life. Having a near-life death experience was a wakeup call and a reality check for Tom to pursue a career he is passionate about, which is beatboxing.
Now at 32 years old, he has transformed what would be an unconventional path to becoming a successful name for himself as "Mr. Hawaii Beatbox." Tom broke down his beatboxing journey to the Hogan Entrepreneurship Program during a guest speaker session on March 18.
"When I first started out I did not know what I was doing," Tom said. "I was not yet seasoned in performing. I had to learn from those who were more seasoned in the performing arts. …We are inspired by those before us."
Tom began beatboxing at the young age of 4. He would imitate the sounds of a bass and a snare drum and listened to artists like Michael Jackson for inspiration. Slowly he began to reinvent and develop his own sounds. He created a unique mix of old school and new house music. Thus, he established his own signature sounds of snares, synths, and tom-toms.
As a way to put his skill and talent out in the public eye, he would volunteer and perform at school assemblies and community functions free of charge. While performing he would incorporate dance moves with his beatboxing.  Because of this publicity he gained the well-known reputation of "Hawaii's King of Beatbox."
"I want to perpetuate the art form and cultivate and build a community," Tom said.
The Hawaiian local graduated from McKinley High School back in 2001. He later attended Kapiolani Community College and studied abroad at Beijing Foreign Studies University in Beijing, China. In 2007, Tom graduated from KCC as a Phi Theta Kappa Honor Student majoring in Liberal Arts, and attended courses at Honolulu Community College and Belmont University as a Business Music major.
Tom emphasized the importance of perseverance throughout his presentation. He stated that passion is what drives an entrepreneur. Other key elements he touched upon were hard work, dedication, and visualization. Being able to visualize what is important in life, setting goals for the future, and achieving them.
"I've done talks with entrepreneurs so it's not my first time," Tom said. "Basically I am just being myself and I didn't know I had such an impact, but that's basically it. Whatever business or company you pursue, wherever your heart is that's what the business should be about. … I turned my life around doing something positive."
Tom is the founder of Hawaii Beatbox, a studio that offers workshops to the youth in the local community. In 2011 he also co-founded the Art Smith in downtown Chinatown along with Youth Speaks Hawaii and Pacific Tongues.
Being featured in the film "American Beatboxer," presenting a talk for TEDx in 2011, and being one of the 150 professional vocal percussion artists in the world are just some of the other many accomplishments of the local beatboxer. Tom has also won a number of first place in competitions throughout his career, many of them through talent shows and Hawaii Slam's First Thursday competitions in Kakaako.
Tom is currently training for the Hawaii Slam's 12th Anniversary Grand Slam Finals at Fresh Cafe in Kakaako, as well as the 2015 Beatbox Battle World Championships, also known as the World Cup for beatboxing this upcoming April.
About the Contributor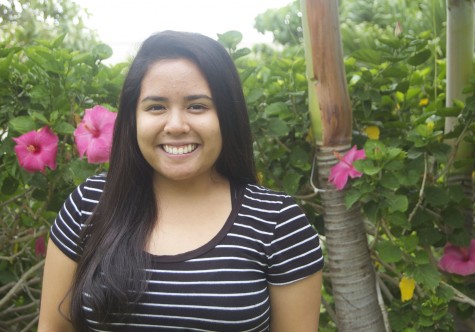 Jolica Domdom, Staff Writer
Jolica Domdom is a senior majoring in broadcast communications. She is a member of the Hogan Entrepreneurship Program at Chaminade University. She was...