Chaminade University's Drama department has been active for many years, but what is beginning to grow is the Drama Club that began last semester here at Chaminade. The Drama Club was started by president Claire Paul and Adam Brewer last semester, with Chris Patrinos as the club advisor.
With the start of the Drama Club and the Performing Arts-Theatre Department, eight students were able to travel to Dixie State University in Utah, where these actors competed in the annual Kennedy Center Regional Acting Competition.
A group of Chaminade students took on the Kennedy Center Regional acting competition from Feb. 11-14. Every year respondents from the University of Hawaii at Manoa come to Chaminade University to select actors to attend the competition. The respondents watched the plays that were put on by the Drama department this year and chose eight actors to participate in this year's competition.
The respondents for the 2015 competition nominated Paul and Brewer for the "Complete Works of William Shakespeare (Abridged)" and Ashleigh Taylor and Shannon Gray for "Hay Fever."
Since "Play On" was the Drama Club's first play this semester, students Byron Tangonan, Taylor, and Gray were nominated for the Kennedy Center competition in 2016.
The students who attended this year's competition in Utah were able to bring a scene partner with them to the competition. Together they learned and performed scenes and monologues.
"We audition for a few of the officials from the Kennedy Center," said Gray. "The ultimate goal is to make it through all these rounds and be selected and go do the same thing, but at the Kennedy Center in Washington D.C."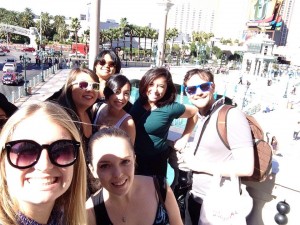 The actors who attended this competition were able to take ideas away for future events for the Drama department and the club.
"The competition helped spark ideas to help use in our future productions," said Paul. "It was very eye-opening to see other productions and see all these other ideas come together from other competitors."
With bringing this new club to Chaminade, Paul hopes to continue the club for other students in the future and welcomes all ideas for the club. She hoped for this club to begin to give more opportunities to actors who want to do more than just be on the stage.
"I wanted another opportunity to do productions chosen by the student body and get them more involved with different aspects of the production process," said Paul.
This club has been successful so far because of the students who were already involved in the Drama department and other students as well who joined this club to get experience in theater.
"It's starting to really gather steam," said Gray. "This is only the second semester that we've had it. It's really good because we have seen a lot of student interest… seems like the students are really excited about it."