With the Career Fair coming up, the Student Support Services hosted a Business Attire Fashion Show on Feb. 20 in the Vi & Paul Loo Student Center to prepare students' professional appearances.
"Your attire is another step closer into getting your foot in the door," said 21-year-old president of Delta Epsilon Ioata, Kaelani Demapan. "Once you get that out the way, you can focus on the actual interview."
There were a total of seven models. Two males and five females all had a variety of outfits giving students various examples of business attire in preparation for the Career Fair and for general knowledge in the future.
Female models of what not to wear dressed in short jeans, mini skirts, revealing tops and bright blue hoodies. Models for what to wear dressed in black slacks, black skirts right above the knees with a simple blazer and a white clean blouse for a casual business look. With what to wear for males, Director of OSAL Makerusa Porotesano modeled a button down aloha shirt with a black fitted slack. Grant McKinney modeled "what not to wear" of skinny jeans and a black tank top.
"I loved everything about the fashion show," said sophomore english major Kacey Hunkin. "This is the first time I've seen one on campus and not only will it benefit us it was also fun."
Crane and Balasbas emceed the event providing commentary on all of the models outfits, as well as calling out raffle prizes throughout the event.
Every student and staff was given a ticket at the beginning of the show for the raffle of Macy gift cards, binders, pens and a Coffee Bean Gift card. Besides a free show, there was also free food, handouts about joining the DEI, how to "tie a tie," and questions to expect during an interview as well as possible questions to ask the interviewer.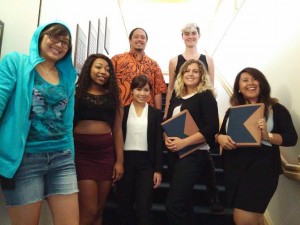 Women's Empowerment Club and DEI collaborated with SSS to exemplify what students should and should not wear to an interview or professional setting.
Kayla Balasbas, senior treasurer of DEI, was in charge of the event with help from vice president of DEI, Chalen Crane.
During the planning of the event they collaborated with the president of Women's Empowerment Club Emma Smith and together they were able to gather several volunteers from both clubs for a successful event.
"The show went just as I imagined it," said Balasbas. "Everything went smoothly and it went by so fast. My volunteers and models were all on time and ready and was a huge help to keeping the event on track."
Volunteers had the choice between what to wear and what not to wear. Balasbas sent a list out to the models of what they are expected to wear and all models replied with a picture and description of their outfit from their own closet to be approved.
"As educated adults entering the job force, we will face numerous occasions where we will need to 'dress for success," said Balasbas. "As a baseline I would say that every college students should invest in a business outfit no matter what major you are pursuing."
The event's budget was allocated to DEI from Office of Student Activities and Leadership (OSAL) and was also supported financially by the women's empowerment club for a portion of the event.
"Dressing sharp, confident and well groomed can indicate to the employer that you are serious about this job and that you have what it takes to fulfill its duties," said Balasbas.
A survey was taken place after the event and according to Balasbas, almost every review said that they would like to see more events like this on campus.