Campus Ministry shares the Christmas spirit
While millions of shoppers and families flood the malls and toy stores this holiday break, Chaminade University's campus ministry are continuing to collect donations to help needy families.
Campus Ministry brings the campus of CUH together to focus on a common goal by bringing the miracle of Christmas to the families and children at Next Step Shelter located on Kaka'ako on Dec. 5 from 5 p.m. to 8:30 p.m.
This is of those who would not have the opportunity to celebrate the joyful Christmas holiday like everybody else. Campus Ministry is accepting any gifts and donations from anybody who is willing to contribute to this year's Christmas off campus.
Christmas off campus was originally called "Christmas on Campus," says pastoral campus minister, Brother Brandon Alana of CUH. "The purpose and goals today remain the same since its first inception."There are those who are less-fortunate and are having a rough time making it, Campus Ministry has been doing Christmas off Campus for over 15 years now spreading the blessing to others that may not have much.
According to Brother Alana, Christmas off campus has always been well received by the families and children who benefited from the generosity of the campus community. Every year they get more donations and are very thankful for the spirit of giving.
Campus Ministry does Christmas off Campus for many reasons and one of them is simply because of the warm feeling they receive when seeing the happiness of a child who probably hasn't learned how to ride a bike or even own a bike for that matter.
President of Lumana'i o Samoa, Iupelisiliva Pei, talks about how she is from a culture where giving is everything. She learned to give not because she has a lot, but because she knows how it feels to have nothing.
Pei has been looking forward to this year's Christmas off campus to see the children's faces light up again when receiving gifts and participating in fun activities they have planned for them.
The Campus Ministry also wants this to be an experience for students who are volunteering to see and hopefully understand the social issues surrounding unemployment and the deficit of affordable housing.
There are various campus groups and individuals who have bought gifts and everyday necessity for the families.
School clubs and organizations play a big part in this year's Christmas off campus, by purchasing gifts or just taking the time out of their busy schedules helping the less-fortunate.
Over 50 volunteers are participating this year, most of them are students who will help out with serving meals, decorating, providing entertainments and activities for the children.
The campus groups who are participating in the COC this year are the Civic Engagement, Micronesian club, Lumana'i O Samoa, Indigo Lotus, Tahitian club, La Familia Spanish club, Marianist Educational Associates (MEA), CUH Religious Scholars and some parents of CUH.
Continue their support of the annual Christmas off campus program by registering to purchase Christmas gifts of a child or family at Next Step Shelter.
About the Contributor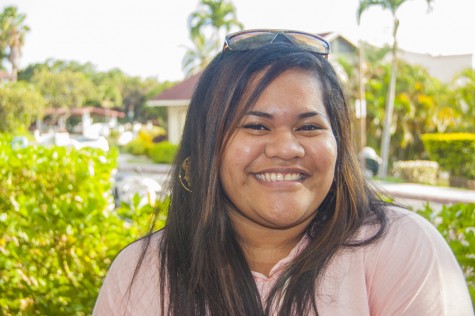 Victorian Lang, Staff Writer
Victorian Lang is from the heart of the Pacific called American Samoa and is a senior at Chaminade University. Victorian plans to move back home after...