Married couple to star as husband and wife in CUH production of "Hay Fever"
In "Hay Fever," a play to be featured at Chaminade this November, David and Judith Bliss are married to each other. So are the two actors playing the roles.
And that dynamic has created some interesting rehearsals and moments for Chaminade professor Dr. Cliff Bieberly (David) and Stacia Garlach (Judith).
"The good thing about it is that there is dialog that we have together that we are able to rehearse together at home, so the parts where we interact on stage we are both pretty comfortable with," Bieberly said. "Hard about it is that it's a big time commitment for both of us."
The Chaminade theatrical production of "Hay Fever" by Noel Coward will have its opening night on Thursday, November 13, and runs for 5 days, until Monday, November 17.
The play starts at 7:30 p.m. all night except for Sunday, November 16 when it starts at 3 p.m. and is shown at the Vi and Paul Loo Theatre, Clarence T.C Ching Hall. The play is directed by Fr. Robert Bouffier, who also directed "Five Women Wearing the Same Dress," which was one of last year's plays.
The "Hay Fever" was written in 1924 by Noel Coward and is a light comedy about the four members of the "Bliss" family. It's set in an English country house owned by the novelist David Bliss (Bieberly). He lives together with his wife and retired stage actress, Judith Bliss (Garlach) and their two children Sorel and Simon Bliss.
The play takes form when each member of the family invites a guest to stay over for the weekend.
"It's a really funny show," said Bieberly. "Coward based the 'Bliss' family on a family that he knew in the 1920s, but even Coward regarded it as a very difficult play for the actors, because the way the plot works. There is so much dialog back a forth between people and it's very quick and very funny."
The play is about two hours long but follows a rapid pace.
"We just need to work together for a few more days and we should be OK," Bieberly says.
"But we (David and Judith) are argumentative in the show and we fight a lot in the show, so when we rehearse at home our dog thinks that we are really fighting and so he tries to get between us and break us up, console us, so that has been a challenge."
There are both students and teachers working together to set up a performance like "Hay Fever."
When asked about how it is to work with students outside the classroom Bieberly said, "Oh it's good. I've done this before, and it's good to have that relationship, that camaraderie and get to know them in a different way. A little more like friends I guess, than that kind of student teacher relationship."
The tickets are priced at $5, and you can call 808 735-4827 for advanced tickets or go directly to Henry Hall Room 206 for purchase.
About the Contributor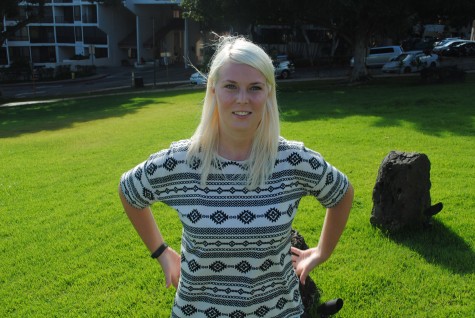 Suzanne Lian, Staff Writer
Suzanne is an international transfer student from Norway. She started out her bachelor's degree in Marketing Communication at Berkeley College in New York...