CUH students learn in mock plane crash
Senior nursing students from Chaminade, Hawaii Pacific University and University of Hawaii acted as first responders of a simulated plane crash at Honolulu International Airport tarmac. The Triennial Aircraft Disaster Exercise (T.A.D.E) held on Oct. 15, is done every three years as part of Federal Aviation Administration regulations.
The "victims" were open to everyone including students, faculty and alumni. The nursing students who acted as first responders, with their faculty, went through the Federal Emergency Management Agency Incident Command System (FEMA ICS) modules.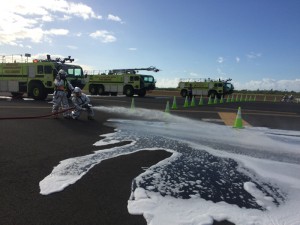 The 72 senior nursing students who volunteered were also using the T.A.D.E. event to achieve course outcomes as well as clinical time. According to Jeanette Peterson, assistant professor and simulation coordinator for the nursing program, 800 volunteers from around the island were involved. About 130 of the volunteers were Chaminade students and staff, including the dean of students, the dean of nursing and the dean of Information Technology and Support Services (IT).
Senior nursing student Ashleigh Kringel, played the role of a first responder and treatment commander of the triage site. She had to make sure survivors were triaged or organized by priority due to severity of their condition: black, red, yellow and green. Black was for dead, red was critical, yellow was intermediate and green was minor.
"I had to make some tough decisions," Kringel said. "Because I only had two ambulances at my disposal, I had to decide who had priority and who would have to wait. Ethically, as a nurse, I want to treat everyone and give each survivor priority. But in this event I was forced to decide who had the greatest survival rate, and it was really rough."
Kringel feels that the T.A.D.E event was "really cool" to participate in, showing how prepared Hawaii is for that kind of situation and what it was like being a first responder to a disaster.
Alyssa Imai, a sophomore nursing student, volunteered as a "victim". Her victim profile made her a male with irregular breathing and a puncture wound. She was declared "dead" on site and she was sent to the black tent.
"It was really chaotic, like the real thing except for the occasional laughter," Imai said. "There was an older man with a cane that was playing a child, calling for his mom for two hours and a girlfriend who was frantically looking for her boyfriend who had to be calmed by the nurses."
The nursing students who participated in the event had to fulfill some requirements before being able to work at the event. They must have completed the National Incident Management System (NIMS) introduction module, which describes the purpose of the NIMS components: Preparedness, Communications and Information Management, Resource Management and Command Management.
They must have also completed the Introductions to Incident Command Systems module that describes the history, features, and principles and organizational structure of the incident command center. Knowing these modules and putting them to practice in the T.A.D.E event helped the nursing students prepare for their future careers.
"The event was well put together, and I learned a lot from being a first responder in a disaster," Kringel said.
About the Contributor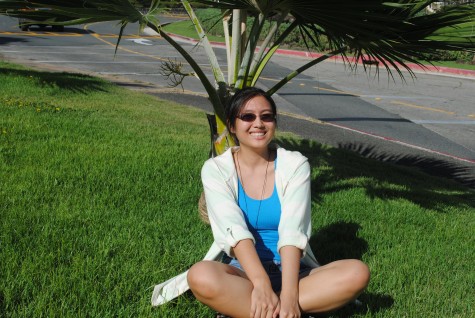 Dana Kojima, Staff Writer
Dana was born and raised on Kaua'i, graduating from Kapa'a High School. She is a senior at Chaminade University majoring in Communications - Broadcasting....