CUH softball coach La Rosa leads 10th annual memorial walk
On Saturday, Oct. 18 with Hurricane Ana bearing down on the Hawaiian Islands, Chaminade softball coach George La Rosa gathered approximately 80 family members and friends to join him in his march across Kapiolani Park. Despite the thick grey clouds looming above, they trekked confidently in honor of La Rosa's late daughter Trina.
The group wore matching blue T-shirts featuring Trina smiling in her Kaimuki High School softball uniform. With the Silversword softball girls leading the way, the marchers followed a clockwise route encompassing Kapiolani Park and the Honolulu Zoo. It was the same walk La Rosa made routinely with his teenage daughter Trina.
"When she was off season or didn't have school, this would be the walk that we usually walked after school around Kapiolani Park," La Rosa said. "We would just walk and talk story about how her day went and if she had any problems."
Their walks ended, though, when Trina committed suicide mere months after graduating from Kaimuki High School in 2004. Trina had been an all-star athlete playing basketball, volleyball, softball and even baseball. Her achievements in athletics carried through to the classroom and she graduated with a 4.0 GPA. With Trina excelling in all areas, La Rosa shared that his daughter's suicide had come as a surprise.
"I worked for the police department for 30 years, and we train to see the signs and the tendencies of suicide, but you know there were no signs of suicide," La Rosa said. "She had a 4.0, no boyfriend, just happy."
Through his years in the police department La Rosa often had rough days at work. He expressed that on such days, it was Trina who would offer him encouragement through her uplifting words and her personal quote that is featured on the T-shirts and wristbands distributed at her memorial walk.
"I live by that quote every day when I wake up," La Rosa said. "Every day when we walked she would say, 'You know Dad, just take one day at a time and live life to the fullest.'"
Shortly after losing his daughter in 2004, La Rosa started what would become an annual walk celebrating her life and memory. This year marked the 10th annual memorial walk. It was also the third year that the Chaminade softball team participated and with the attendance of the women's soccer team, it was the first year that another Chaminade athletic team had marched.
Aja Keyes, a senior member of the Chaminade softball team, attended Trina's memorial walk for the third year in a row. Both of her parents drove from Kaneohe to march by her side sporting T-shirts from previous walks. Aja expressed that her coach's story initially brought her to tears and has since brought her and her softball team closer.
"He keeps her picture in his wallet and before every game he'll touch it," Keyes said. "So it's like she's always there with us. It's nice. We're very family oriented."
About the Contributor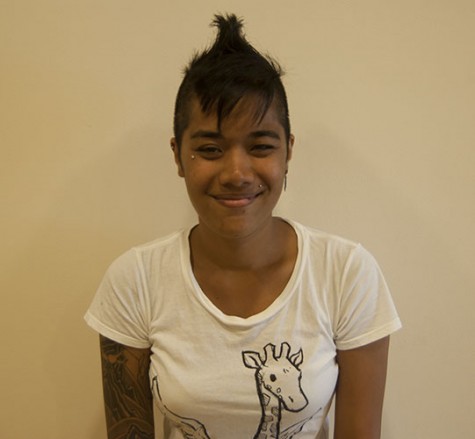 Nadia Fale, Staff Writer
Nadia Fale is a senior pursuing a degree in Communication with a specialization in Integrated Marketing. She was born and raised on the North Shore of...