Chaminade cafeteria makes healthy changes
Over the summer, the Chaminade Silversword Cafe went through a major change.
This fall students came back to a new refrigerated salad bar with more options. The dining room also now provides vegetarian dishes served with every meal. And gluten-free meals are available upon request.
You can also stop by the café for some live local entertainment.
"That's why we expanded the salad bar, because if a student has an medical condition, they're allowed to work with our chefs in getting what they want," said Katrina Sumile, the marketing manager of the Silversword Café.
The cafeteria is working to create a gluten-free menu, but for now, gluten-free food is available upon request.
The idea about renovating the Silversword Café came from Food Serves director, Mike Wong, and the dean of students, Grissel Benitez-Hodge. They came up with the plan to get integrate healthy living on campus.
Aramark, which is the main distributor for the Silversword Café, is moving toward healthier selections. The display of the colossal board on healthy living for life is a directive from the corporate office. Some students are into eating healthy, and the café is trying to accommodate and satisfy Chaminade's community.
Sumile said she's trying to find new ideas that the café hasn't done before and spread it out so that students, faculty and staff can get excited about coming to the café.
This year, the new head chef, Ed Kuoha, is working on bringing local Hawaiian dishes, vegetarian and gluten-free choices. The focus this year is vegetarian, vegan and gluten-free items.
"I feel they do a really good job in catering to students that have this medical condition, considering the circumstances that there aren't that many on campus," said Meghan Norwood, a 19 year-old sophomore from Maryland, who is a gluten-free and soy-free vegan and is currently studying Forensic Sciences. "I'm also allergic to soy, so I just stick to the salad bar. It's a little frustrating but I make my way around it. The café cooks their dishes in butter or it has gluten in it. So I prepare my own food that way I know what's going in it."
Another big feature this fall is bringing live local entertainment that will play from 5-7 p.m. during dinner at the Silversword Café. This was also Benitez-Hodge's idea. She scouted the first band and was pleased with the outcome on Monday, Aug. 25.
She said she plans on bringing in live entertainment every other month.
"The first trial of the band went really well," Sumile said. "About 200 students came through the doors that day, 50 more than on a regular dinner night. Dean Benitez-Hodge and myself will continue to seek out local talent through out the year."
About the Contributor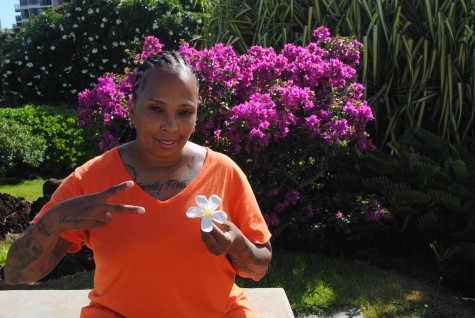 T.O. Turner, Staff Writer
T.O. Turner is from Boston, Mass., and is a senior at Chaminade University studying Communication/Broadcasting.  In her spare time, she likes to go shopping...