Club Fest: New poetry club provides an 'outlet' for students
When Swords' basketball forward Frankie Eteuati asked his teammates to join his new club the Leisure Poets Society, his team was split. Some of them supported him by joining the Club Fest's 47 sign ups, while others simply replied "I'm a basketball player, I don't do poetry."
"I formed Leisure Poets Society just so people can have a place to vent, relax and empty some thoughts every now and then," the senior said. "[It's] for people who aren't as good or for people who are, and kinda just wanna do it for fun. Leisure poets."
This year's Club Fest was held in the Loo and right outside of it under the white tent at 11:30 a.m. on Wednesday, Sept. 3. OSAL chose to change the venue from its normal location, the Courtyard, to try and establish the Loo as a hub for student activities. There were 35 clubs represented at the event, with seven of the clubs being new.
"Club Fest has been great," first-time club founder Eteuati said. "There's been a lot of people here. The selection for this year has been a lot more diverse than last year. So, I'm excited to see how everything goes for everyone."
The California native got the idea to form a poetry club at Chaminade from a club he was in at his previous school Cal State-Northridge. Eteuati said there were people at Northridge who were sad and had no place to express themselves. He said his previous club, Urban Poets, gave people a place to release information.
The 23-year-old described Leisure Poets Society as a workshop with fun games rather than a club. It meets on Wednesday at 7 p.m. in the Loo to read and create poetry. Everyone is welcome to come, including people who did not sign up.
For one of the activities, Eteuati will give members three words and 10 minutes to make a poem. At the end of the session, those who wish to share can, but it's not mandatory. He wants to encourage people express themselves, so people can also bring in poetry that they've previously written to share.
"It's a therapy session, once a week," the senior said. "But instead of asking questions, I give people an outlet."
Though the Vi & Paul Loo Student Center was packed with people and club officers were busy recruiting, some got the chance to sneak away and sign up for other clubs as well. Olivia Phillips, the sophomore Public Relations Officer for the Civic Engagement Club, rejoined the Hawaiian Club and Tahitian Club because she enjoys participating in the end-of-semester performance, Pacific Islander Review. She also joined two new clubs, Spirit Swords and Cheer and Gender and Sexuality on a Universal Level (GSOUL).
"By joining a club, you get to meet a lot of other students," the Forensic Science major said. "So you get to meet, you know, new people that you might not see around or you might even have classes with but never talk to, and you also get really involved with things on campus."
List of Clubs at Chaminade: (* demotes a new club)
Alpha Phi Sigma
*Animal Lovers Association
Biology Club
*Black Cultures United
Chaminade Accounting Club
Chaminade Radio Club
*Chaminade Theatregroup
Chemistry Club
Civic Engagement Club
CUH Student Nurses/Association
Delta Epsilon Iota Academic Honor Society
Fitness Club
Forensic Sciences
Gamma Sigma Epsilon
Gender and Sexuality on a Universal Level (renamed from Gay Straight Alliance)
H.I.P.E. History Club
Hawaiian Club
Idpro Hawaii
La Familia
*Leisure Poets Society
Lumana'i O Samoa
Marianas Club
Micronesian Club
Ohana
Phi Alpha Theta
Psychology Club
Rotaract Club of Chaminade University
Scrubs Pre-Health Club
Sigma Tau Delta
*Silversword Jiu Jitsu Club
*Silversword Toastmasters Club
*Spirit Swords and Cheer
Student Athlete Advisory Committee
Temana Tahitian Club
The Indigo Lotus
Women's Empowerment Club
About the Contributor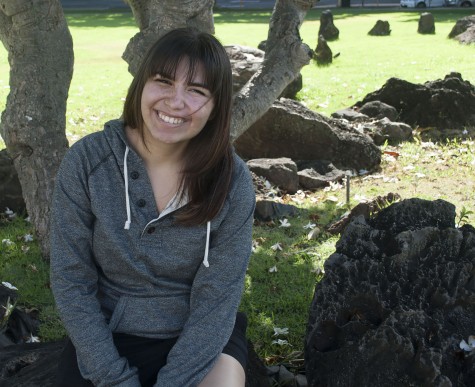 Brandee Lima, Staff Writer
Brandee Lima was raised in Kaneohe, Hawaii until her tenth birthday, when her family moved to Guam. She graduated from St. Paul Christian School in 2011....