Once per semester, Chaminade University has a ceremonial presentation of work from students in the Oriental painting class.
The professor for the class, sister Younghee Benedicta Ha, CDP (Congregation of Divine Providence), a sister of the Catholic church of 46 years, from Seoul, South Korea hosted the spring Oriental Brush Painting Exhibit of student and faculty work Friday at the Sullivan library.
The exhibit started with a congratulatory ceremony in front of a crowd that seated around 40 people. Each of the 13 attendants of the coarse AR-480 received a certificate of completion as well as a lei constructed by a student that attended the class who is friends with Ha outside of school, Melody Anzai. Anzai is a senior in humanities with a specialty in religion.
"The class is very independent," said Angela "Angie" Blair, a senior graduating this semester majoring in psychology from Tokyo, Japan. "I like working on my own. She (Ha) teaches you the skills and you apply them in your own way. She never criticizes and she always helped to make your art better."
Each student painted over 10 paintings during the entire class term and learned specific brush strokes as well as artistic maneuvers to enrich their work. After a semester's worth of critiquing, Ha made sure that every student had created something that they could put up on display in the exhibit.
"I like the students," said Ha who has taught oriental painting, humanities and basic fine arts at Chaminade for 8 years. "They are creative, they are different and they are unique. I want to help them create in their own beautiful way."
Ha wanted to stress that although paintings could be stress relieving and creative, that they could also be symbolic as well as literal. She encouraged the students to create artistic pieces that contained symbolism, whether religious or not.
Some of the paintings had bright colors and sharp contrasts, while others were darker and followed a specific color scheme. Most paintings diversified in subjects of nature in a specific form like mountains with fog or cherry blossoms. The paintings were all created with different mediums like watercoloring or gluewater painting which provided a difficulty to make some of the art.
CUH Korean language professor Nae Seung Baek from Seoul, South Korea created a Christian-themed painting depicting the crown of thorns associated with Jesus Christ. She elaborated that the painting symbolizes how the crown of thorns was once a part of a tree that was considered beautiful and it eventually was changed into a symbol of pain. However, the pain is still associated with the beauty and peace because of the salvation given from sacrifice.
"Grace is always inside our pain," Baek said. "I wanted to show that the brightest light always shines at its brightest in our darkest times in my painting."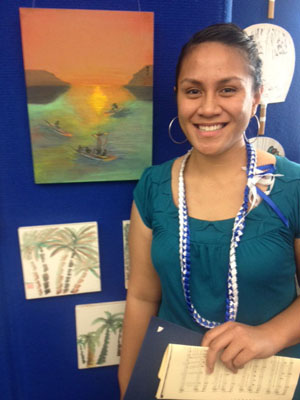 The diversity of ethnicity and nationalities in the class made each student's style unique. Although the course was Oriental painting, she allowed certain Western themes to be included in their art as well.
"I wanted to give them a harmony of the two different cultures of Oriental painting and Western painting themes," Ha said. "I wanted to share artists' love through their art. I wanted the art to make to touch their heart, because the art comes from the heart and it is a spiritual thing."
The class also had students of many different majors. It offered an alternative option for a class than most required subjects and provided solace for some students who have busier classes.
"I love this class a lot because it relaxes me," said Susan Garza, a junior studying biology from San Antonio, Texas. "I'm a biology major and I honestly didn't think I would do very well with painting, but it makes me excited because it's something I'm not used to. Overall I like the class a lot and I hope I can fit it into my schedule in the future."
After the open exhibition for observers to glance at and critique the art, there was a self-serving dinner for everyone. The entrees and appetizers provided were all Korean cuisine, including mandoo, chapchae, kimchi and meat jun amongst many other authentic dishes.
Entertainment was provided for the dinner by CUH student, Clare Taira and her brother, Isaac. Taira is a sophomore psychology major from Aiea. She and her brother performed covers of popular songs from Imagine Dragons, Lorde, Frank Ocean and more. She sang while Isaac played guitar. The ceremony closed with an additional congratulatory cheering.