Omalza, Moore to lead CSGA for upcoming school year
Walter Omalza and Martin Moore were the most unlikely pair of candidates in April's Student Government Association's elections.
Omalza, who was running for CSGA president, had a previous partner who dropped out at the last minute. And when he went to the OSAL Department to ask around for anyone interested in joining the campaign as his vice presidential running mate, Moore, who was working there at the time, decided on a whim to accept the invitation.
"I guess it was a calling," said Moore, who was finishing his two years at OSAL and needed something to do next semester.
Later, Omalza and Moore were elected as president and vice president, respectively, of CSGA for the upcoming school year. The election results were announced at Extravaganza on April 4.
Omalza and Moore had similar motivations for running in the CSGA election. Moore wished to be the voice for the students while Omalza wanted to be more involved with students and faculty on a more personal level.
"I really wanted to get to know the student body on a more personal basis and also faculty as well," Omalza said. "So I really wanted to see what this school was really about and that was core motivation for me."
Omalza, a junior, and Moore, a sophomore, have many plans for the next school year. They are currently focusing on improving communication in terms of paper work and event planning between the different departments of Chaminade.
Many of their plans for the upcoming school year are still in the planning stages but they will be discussing them over the summer with their board in CSGA. They will also be brainstorming many other ideas for the next school year.
Omalza and Moore consider CSGA to be vital to student life at Chaminade, but it will not deter them from their obligations to their education and club activities. Omalza is a part of the Micronesian club, Tahitian club, Samoan club and Step Team as Moore is involved with Micronesian club, Lumana'i O Samoa, Temana Tahitian Club and Civic Engagement club. They are determined to meet the challenge of balancing their work loads between classes, clubs and CSGA.
"I think both Walter and I are very involved in many different things and CSGA is going to take a little bit of priority but its not going to be our limit," Moore said. "We are also going to try and be involved with other clubs if it is permitted. School is our top priority so once you focus on that then we can focus on CSGA and then other extracurricular activities."
Both of them are looking forward to the experiences and what they will be learning during their school year as president and vice president, even if complications may arise.
"I don't really see it as complications, I mean I'm sure there'll be some things we are going to have to settle upon but I'm sure I have a really good team," Omalza said. "I have a lot of resources that I can utilize so it'll be fun like I said, I'm ready for the challenge."
About the Contributor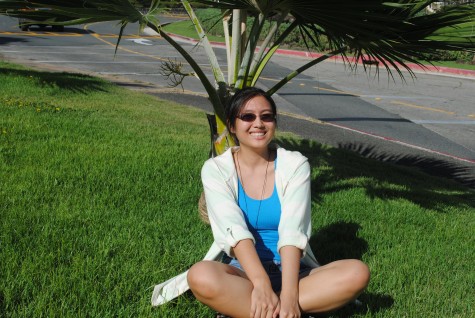 Dana Kojima, Staff Writer
Dana was born and raised on Kaua'i, graduating from Kapa'a High School. She is a senior at Chaminade University majoring in Communications - Broadcasting....