Students celebrate the irrational on Pi Day
Members of the Accounting Club anxiously waited to throw pies at Chaminade faculty members, such as Richard Kido, a Business professor at Chaminade.
"The Pi Day event is kind of an intellectual thing," Kido said. "Most people won't really get how pi relates to actual pie until they've seen the event."
The pie-throwing event, whose proceeds would benefit the Suicide Prevention Lifeline, was a part of the first Chaminade University Pi Day, which was held on Friday at the Henry Hall Courtyard during lunch.
Pi Day is an annual celebration of the first two digits of the mathematical constant pi. The Chaminade community also celebrated world-renowned physicist Albert Einstein's birthday.
Pi Day was suggested by a staff member of the Student Support Services department, included a pie-eating contest and a pie-throwing contest. Signs were posted on the tents in the courtyard filled with funny pictures about Pi Day and fun facts about Einstein. Free cake and pie were also provided by the Student Support Services.
"It's something that is fun, but at the same time, educational," said Allison Jerome, associate dean of students. "So we decided that we would host a Pi Day event, since it makes sense – it's on a Friday. It's really a celebration of pi, and the pie that you eat. It's more like a social thing."
Five students participated in the pie-eating contest, which required them to wear garbage bags while eating an entire apple-cherry pie in 3.14 minutes. After the contest was over, seniors Tawnee Rollerson and Patrick Reeder, who are both Communications majors, were tied for first place. But it was Rollerson who ended up winning the contest and scored a $25 Domino's Pizza gift card.
The event continued on with a pie-throwing event. Faculty and staff participated alongside students to be "victims" and pie-throwers of the contest. By paying $1, students were able to throw pies at their fellow schoolmates and professors.
"I liked everything about it," Faith Leasiolagi, a junior, said. "There was free food, they were asking us to throw pies at people who volunteered, so that was cool."
Leasiolagi, a History major, was eager to see her friends' and professors' faces covered in pie. Not a lot of students and teachers had heard about Pi Day prior to the celebration on campus, but they agreed that although Pi Day was brief, it was a successful turnout. Jerome is thinking of holding the celebration annually for students to enjoy and participate. Even though Pi Day will be held on a Saturday next year, Jerome would not mind holding an event to celebrate the day before.
"I think everyone should celebrate Pi Day," she said. "Like I said, it's something fun, and if you don't know anything about pi, or you know, people associate with pi or the fact that people celebrate Albert Einstein's birthday, it's a little bit of education while having fun."
About the Contributor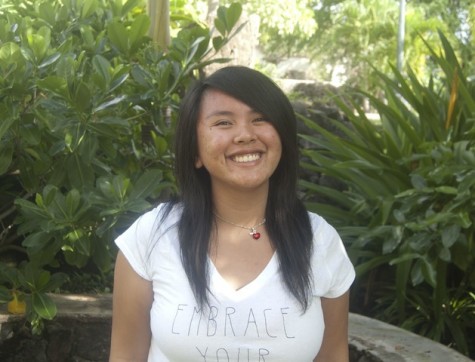 Vina Cristobal, Staff Writer
Vina Cristobal is a junior who is majoring in Communications (Mass Media). This is her second semester as a staff writer for the Silversword.  In her...