Wedding vow renewals brings energy to Valentine's weekend
On Sunday, Feb. 16 at Chaminade University's Mystical Rose Oratory couple Paul and Vicky Trupiano, Chaminade alumni and college sweethearts, came to renew their wedding vows along with more than 30 couples at a wedding vow renewal event.
"We have been married for over 30 years." Vicky Trupiano said, "I wanted to make Valentine's weekend special. Marriage involves God and love, which are both sacred and it is good to renew your vows."
She revealed that she had planned to participate in the renewal since 2011. The Trupiano couple meet at Chaminade while attending night classes together in the '80s.
The wedding renewal event has become an annual event, this being its fifth year. This year more than 30 couples participated, being the largest renewal so far. Organizer Be-Jay Kodama started the event because many Chaminade alumni met their spouses on campus, becoming college sweethearts. The coordination of the event was encouraged by the late Henry Gomes. Gomes, a Chaminade alumnus, attended many alumni events and thought the event shared the Marianist value of family spirit.
"Love is a special feeling, and this event is to share that special experience that they made to one another all over again." Kodama said, "To renew is to make fresh … new energy. The Renewal and Blessing is to strengthen and enrich the couples commitment to one another and a public affirmation."
Before the event started Kodama and an assistant handed the guests a single red carnation to help celebrate the renewals.
The priest presiding over the mass and the renewals was Father Paul Fitzpatrick, as the altar was decorated with bushels of pink, red, and white flowers. After going through the prayers and songs of Sunday mass, Father Fitzpatrick called all the couples to come stand around the altar. The couples all grouped behind the priest, revealing that the majority of the people were participants in the event.
As Father Fitzpatrick read out the wedding vows, the couples replied with a unified I do. With the vows completed, some couples kissed quietly before returning to their seats as others held each other's hands. As the people filed out of the chapel to leave to their sunday plans, the couples smiled and giggled to each other lightly with bright smiles.
Another alumni couple, Bernard and Lolita Lum Hoy are also among the couples that participated in the in event. They are also college sweethearts that also met during their enrollment at Chaminade. The Lum Hoys will be celebrating their 53rd anniversary.
"It took me 3 years to convince him (Bernard) to attend and I quote him, 'One time was enough'." Lolita said, giggling to herself as she waited with her husband for the service to begin.
Chaminade advertised the wedding renewal and other events using email, mail, social media, campus news and more. Through these methods there has been a rise in participation to the events. Kodama felt it was a touching moment to see that there were more people at the altar than in their seats. These events are not limited to chaminade alumni staff, faculty, students, and community are invited to future events.
About the Contributor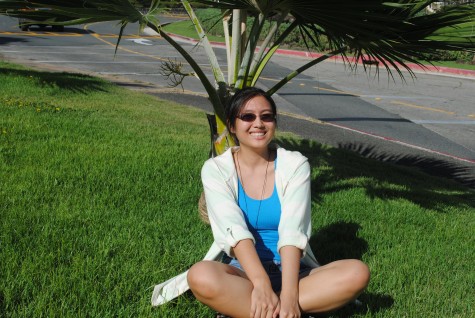 Dana Kojima, Staff Writer
Dana was born and raised on Kaua'i, graduating from Kapa'a High School. She is a senior at Chaminade University majoring in Communications - Broadcasting....