I-REC makes room in its heart for Valentine's Day
Barbara Poole-Street, an Economics professor at Chaminade University, wanted to create a place for her son with disabilities to belong and interact with others. She started the I-REC (Inclusive Recreation) program for her son Ethan, that has become a part of Chaminade's Service Learning program, in 2001.
The I-REC program plans events for young adults with developmental disabilities and Chaminade students to interact and socialize. The goal of I-REC is to give regular-ed and special-ed youth and young adults an opportunity to enjoy leisure pursuits together, thus learning from and about each other.
"If there is something he (Ethan) enjoys, there are others who would enjoy it and it's more fun in a group," Poole-Street said.
I-REC's latest event was planned on Valentine's Day featuring crafts to make Hershey kiss roses and Valentine's Day-themed magnets and jewelry. Poole-Street had provided the crafting supplies in separate stations as she was helped by Chaminade students under the tents in Henry Hall courtyard.
Though the sky was grey and the drizzles stomped on the tent roof, students laughed and enjoyed themselves as they tried to make roses out of Hershey kisses.
I-REC holds events every Thursday and Friday. Thursdays the group goes to the Silversword Cafe to share dinner together, while Fridays are the days for crafts and other events. I-REC has about 12 to 30 people that participate either for the group dinners or the activities and games.
While looking up activities for coming events, Poole-Street finds crafts that are not done the "right" way but allow creativity and games that involve no specific skills. However, she loves when students sometime suggest activities.
When thinking about the future for the I-REC program, Poole-Street hopes that it will continue to be a part of the Chaminade Service Learning program far into the future. She see the I-REC participants growing in confidence and sociability due to their interaction with Chaminade students and sees the students learn much from the participants. Some students have discovered that they are meant for a career working with people with disabilities.
One student is Jodi Quon, a sophomore student in Chaminade. As a requirement for the Nursing program, nursing students must contribute with a Service Learning program. Quon started helping with I-REC for this requirement but grew to like it and started helping all the time. This is her third semester volunteering for I-REC.
"I like that it's family oriented, fun, and the interactions with others," Quon said as she helped Poole-Street set up the individual craft stations.
I-REC holds dinners on Thursdays for those that are not able to attend the Friday activities. Poole-Street plans the events on Fridays because it is the end of the week and a good time to de-stress and have fun.
"No one has homework due the next morning or an 8:30 exam they are worried about," Poole-Street said as she sorted out the disarray of crafting supplies. "I find it is a great way to start a weekend."
About the Contributor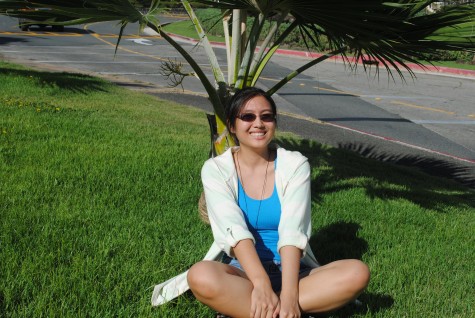 Dana Kojima, Staff Writer
Dana was born and raised on Kaua'i, graduating from Kapa'a High School. She is a senior at Chaminade University majoring in Communications - Broadcasting....