Students try out for 'Rags'
On Wednesday, Jan. 15, and Friday, Jan. 17, open auditions were held for the school's spring production of "Rags," which is scheduled to run from April 10-13.
Vannessa "T.O." Turner-Oliver, who is a Communications major, was eager to try out for the new musical.
"I've been in music and theatre all my life. My whole family was into it," said Turner-Oliver, who is a transfer student from Bunker Hill College in Boston. "I was a theater major in college from 1980 to 1984. I've done plays ever since I was a kid. Now that I'm an older adult, I wanna get back into it. I wanna get back into something I've always loved."
She auditioned to be part of the ensemble cast, which only requires background characters to appear during musical numbers.
"I was just following the director's lead," Turner-Oliver said. "No nerves, no scariness, nothing. 'Cause that's not what I'm here for. I'm not here to be scared. It's always good to have some optimism."
Christopher Patrinos, technical director at Chaminade University, was impressed with Turner-Oliver's headstrong spirit.
"She's very persistent, she's resilient, she is a person who doesn't take no for an answer," Patrinos said. "She comes back for it. She's fought through all kinds of adversity in her life, and she is a model Chaminade student."
Another Chaminade student who auditioned for "Rags" is Walter Omalza, a third-year transfer from California State University in Northridge.
Omalza, who is double majoring in Criminal Justice and Psychology, has a long history as an actor and a singer; he has been involved in the Hawaii Opera Theatre, the Honolulu Broadway Babies, and the Leeward Community College theatrical productions.
"I just went in with an open mind and a big heart," said Omalza, who landed the part of Avram Cohen, a Russian immigrant. "I love singing and performing, which is why I just went in. Like I told the directors, they asked me 'Why did I come and audition?' I said, 'I'm just here to have fun."
Omalza admitted that despite his years of experience in performing arts, he was nervous to audition for his first Chaminade production.
"It's nerve-wracking at the same time," he said. "If you don't do it all the time, you'll lose it. I didn't do any musicals or theater productions whatsoever when I was in California, so when I came back to Hawaii, it was hard. It's been a long time since I got into an audition."
Rachael Paeste, a junior at Chaminade, is the stage manager of "Rags" and had a chance to see Omalza's audition on January 15.
"I actually liked when he auditioned," Paeste said. "Initially, he seemed unprepared. He felt unprepared, but when he went in, I was like, "You are not unprepared."
Turner-Oliver and Omalza both have no regrets that they auditioned, and agreed that they are content with whatever the outcome from the audition would be.
"I've always wanted to be a part of my school's production, no matter where I'm from," Turner-Oliver said. "I love musicals. I wanna be a part of it and show people what I got. I gotta show my Chaminade pride."
"Rags" was based on the book of the same title by author Joseph Stein. The two-act musical focuses on the life of a Russian immigrant Rebecca and her son, David, who both struggle to adapt to a new country. The Broadway production of the play debuted in 1986, and despite the failure of the original version of the show, it is still one of the most well-known Broadway musicals to date.
About the Contributor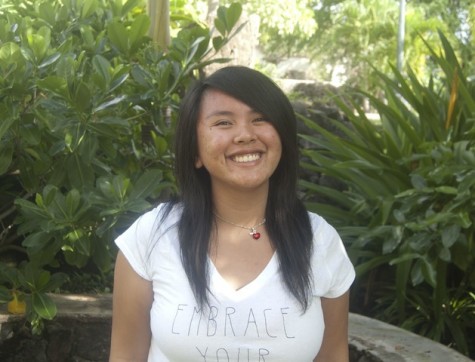 Vina Cristobal, Staff Writer
Vina Cristobal is a junior who is majoring in Communications (Mass Media). This is her second semester as a staff writer for the Silversword.  In her...