Chaminade students relive childhood on Universal Children's Day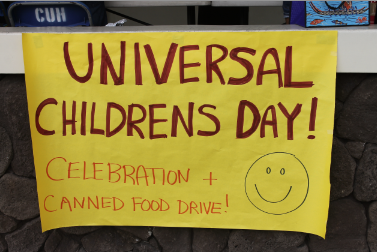 On Wednesday, Nov. 20, Chaminade students were able to relive their childhood at the Universal Children's Day and Canned Food Drive at the Sullivan Library Lawn.
For just an entry fee of $1 or a canned food donation, students could enjoy the various activities of the mini-festival, which included a face painting booth, a bake sale, a giant rainbow parachute and a large bounce house that spanned across the entire library lawn. Songs from the 1990s – which was the decade that many Chaminade students were children themselves – blared through the speakers as students participated in the many activities that were offered.
Senior Caitlin Dinneen, president of the CUH Education Club, originated the idea in September.
"Around this time, we would have a bake sale for the holidays," said Dinneen. "But this time I thought we should do something bigger, and considering that November 20 is Universal Children's Day, and we are Elementary Education majors, we thought we should do something special."
Dinneen discussed this idea with her fellow club members, and they agreed that this would be the perfect way to celebrate a fun event while emphasizing the purpose of the Elementary Education programs offered at Chaminade.
"Everyone had their own suggestions," said junior Timari Matsuda, a junior majoring in Elementary Education. "It was more like a group discussion, but Caitlin was the one who made it happen."
Through the utilization of social media and word of mouth, Dinneen and the other Education Club members brought a huge turnout of students, who were all kids at heart at this event.
"I think everyone's gonna love the bounce house and all the other events," Matsuda said. "It's definitely something that people are looking forward to."
The Education Club also partnered up with Campus Ministry for the canned food drive, which would benefit the Hawaii Food Bank. Since Campus Ministry was already administering a food drive itself, the Education Club was more than happy to help them out.
Children from the L. Robert Allen Montessori Center, which is a preschool near Hale Lokelani, were also in attendance for the event. Some darted for the bounce house, while others opted for the face painting and temporary tattoo booth.
Dinneen hoped that the event would be successful, and from the looks of the event, it seemed that it caught the attention of students who were passing by. Questions were raised about the bake sale and the bounce house and as people were heading to class, they seemed eager to return and check out the event afterwards.
"This is our first time and we're hoping that it is really successful," Dinneen said. "Hopefully we get to do it as an annual thing, or maybe next semester if we can, especially if we can bring back the bounce house."
The Education Club raised $200, which was more than expected, and had 30 canned food donations.
Matsuda, who has been in the Education Club for two years, also agrees that the Education Club should have more similar events in the future.
"It's Children's Day, and we are the Education Club and most of us are teachers," Matsuda said. "This event is a way for everyone to see what the Education department is all about and see who we are."
About the Contributor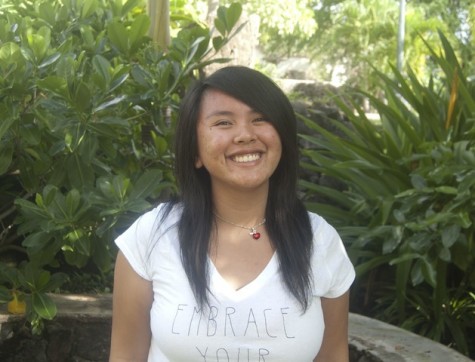 Vina Cristobal, Staff Writer
Vina Cristobal is a junior who is majoring in Communications (Mass Media). This is her second semester as a staff writer for the Silversword.  In her...