Five women take the stage
"Can't we just drink to love?" Tricia (played by Marchella Versteegh)
Five women took refuge in the bride's sister's room at the Loo Theatre on Friday, Nov. 8, in Chaminade's production of the hilarious play, "Five Women Wearing the Same Dress."
"They're five bridesmaids none of whom like the bride gathered in the bedroom of one of the bridesmaids, the sister to the bride.," said Father Robert Bouffier, who directed the play. "They complain and talk about life, love and friendships and windup being best of friends."
In the play there's one guy, who for Bouffier, is the hope of the play. Although life for all five women can seem to be very empty, when he comes at the end of the play he changes their perspective, that there are possibilities of great relationships.
According to the director's note, the strangeness between the ideal and realities, pasts and presents, the logic and irrationality of each character kept Bouffier in stitches throughout the rehearsal period, which started in Sept. soon after auditions. He hoped that the audience will see that the characters portray the mess everyone lives in, which we call life.
The five bridesmaids – Frances (played by Shannon Gray), Meredith (played by Ashleigh Taylor), Tricia, Georgeanne (played by Namoi O'Mara), and Mindy (played by Nadia Marie Fale) – hide in Meredith's room during the wedding reception. Through out the play, these women catch up by talking about their former loves, hookups, current love lives and complaints about the bride.
None of them have anything in common aside from the dresses they wear. From Frances' "I'm a Christian" personality,Meredith's rebellious attitude and need to wreck havoc to Tricia's whit and advice to Georgeanne's heartbreaking love life, and to Mindy's flamboyant personality, these women brought nothing but laughs throughout the evening.
Bouffier felt that the cast did superb and "found their characters" for opening night. He said it took them the whole rehearsal period to find their characters, but the cast found them and created an ensemble where everybody worked well together.
"It met my expectations. It was wonderful," said Bouffier. "They did everything they were supposed to. I'm very happy."
Two members of the cast, Versteegh, 19, and Taylor, 18, both agreed that opening night was fun and did really well, especially compared to their dress rehearsal on Nov. 7. Versteegh said "a bad dress rehearsal makes for a great first performance." Taylor said the audience helped them with energy levels and keep in character.
When Versteegh and Taylor first auditioned for Chaminade's production, they both liked the role of Meredith due to her rebellious attitude. However, after reading the whole story, both liked the role of Tricia, especially because she received a kiss from Tripp (played by Samuel Galloway), the only male character the audience gets to see.
"I'm nothing like Tricia," said Versteegh. "If you know me personally, I'm almost a goody two shoes."
Versteegh and Taylor laughed, saying she was more like Frances, but not being as extreme as Frances is in her beliefs. Not only that, but Tricia's actions make her appear to be a "slut" and may have slept with more than 100 men, but she isn't sure since she's lost count.
"I'm nothing like my character. I would never speak to my mother like that. Ever! Never, ever" Taylor said.
According to Taylor, she's nowhere near as bold as Meredith. She found it bizarre to be cursing and saying all of her lines, due to Meredith's attitude and way of saying things. She says she would never say half the stuff Meredith says out loud, but she would think it.
The two of them felt that the only thing that needed improvement were their lines. Taylor felt they just needed to have their lines "1000 percent" down, work on volume, knowing when to slow down and waiting for laughs. She expressed that during practices they don't have people laughing, so they didn't have the opportunity to take it into account. After their first performance, they have an idea of when and for how long the audience will laugh and know when to start on their next lines.
"I'm really proud of it," said Taylor. "It was so much fun!"
About the Contributor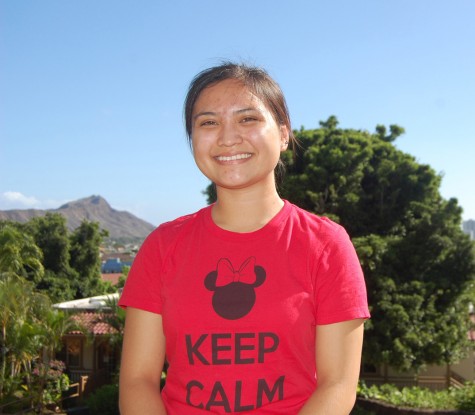 Alanah Torre, Staff Writer
Alanah Torre was born and raised on the island of Guam. She graduated from Academy of Our Lady of Guam High School. She is currently a junior at Chaminade...