Chaminade students embody Marianist values, break stereotypes
As Julianne Mao, a Chaminade junior, walked in her local mall, she saw a young girl looking at her.
"Hey mom, look it's that girl, she came to tell us stories the other day," the girl said.
Mao smiled back at the girl and waved.
"See mom, she knows me, she goes to Chaminade," the girl said.
Mao remembered this girl as one of the children she met as a member of Tales and Treats. This program began in 2011 when Chaminade partnered with the Hawaii Literacy Program to read stories and organize activities for the children living in Kuhio Park Terrace and Mayor Wrights Housing.
The three clubs that currently participate in Tales and Treats are the Civic Engagement Club, the Samoan Club, and the Micronesian Club. These clubs combined make up a total of around 20 student volunteers. On Saturdays, these 20 student volunteers get the chance to read and teach the students legends from their islands.
Maimoa Fineisaloi, Chaminade campus minister for community service and social justice coordinator, was included because she was the Micronesian Club Advisor at the time.
"This initiative gives our students a chance to display the Marianist value of social justice," Fineisaloi said. "We wanted to shed light on the issue of discrimination against Micronesians on O'ahu."
This issue is extremely sensitive. However, Chaminade's Micronesian Club took the task head on. Fineisaloi believes that the Micronesian Chaminade students prove that the Micronesian population can work together in unity.
Makerusa Porotesano, director of student activities and leadership, agrees that highlighting this issue was exceedingly difficult, especially since the volunteers were dealing with young children.
"Many of our students come from their home islands of American Samoa or the Federated States of Micronesia" Porotesano said. "Interacting with the children helps us to understand what the children know and how discrimination is different here on O'ahu."
Despite the negative stereotypes, children of both Micronesian and Samoan descent are able to experience the joy of connecting with what they consider older siblings. Seeing the children running to the Chaminade students upon arriving on site touches Porotesano every time he sees it. Porotesano emphasizes that the positive male example the male Chaminade students are to the children is especially moving to him. Such an example is important to the young boys, who often need an older male figure to look up to.
Education, another strong Marianist value, takes place on both sides of Tales and Treats. This year the student volunteers used music to engage the children. The children from both Kuhio Park Terrace and Mayor Wrights Housing are being taught Samoan and Micronesian songs. However, in order for the children to learn the songs, the Tales and Treats team must first learn the songs themselves. These Chaminade students' devotion could be seen, for example, on Saturday, Sept. 28 when they met to learn the songs in both English and the Samoan or Micronesian language
"I feel that the addition of music has created a more dynamic environment," Mao said. "We as the volunteers get to hear their beautiful voices."
Porotesano hopes that Tales and Treats will encourage Chaminade students to go to their home islands, bringing both their college degrees and skills they have developed.
"Our Chaminade students know what they need to see change in their home," said Porotesano. "I tell them they can be that change they want to see in their home."
The last training for the Tales and Treats program took place on Sept. 28 of this year and it was student-led. This is an important shift for the program because the students have the ability to bring other students in to Tales and Treats and increase the program's diversity.
In Tales and Treats the children's parents are invited to a campus tour of Chaminade that includes a workshop explaining what academic activities their children are participating in. The day ends in a family fun-filled barbeque sponsored by Tales and Treats. These Chaminade students are advancing through their college education, while being grounded in their Marianist values.
The future of the Tales and Treats program is one of growth.
"Our growth is like that of a bamboo plant," Porotesano said. "In the first three years it is stagnant, but around its fourth year it shoots up exponentially."
About the Contributor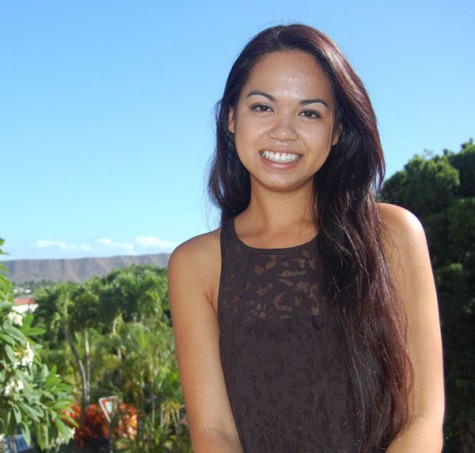 Kanoe Perreira, Staff Writer
Kanoe Perreira was born and raised in Honolulu, Hawaii. She is a senior majoring in Communications with a focus in Broadcasting. Her career aspirations...