Go pumpkins!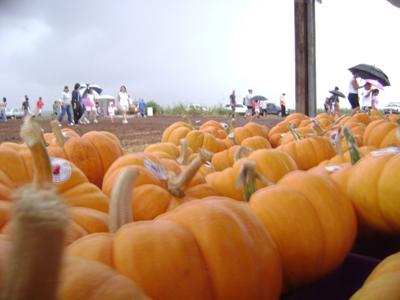 Aloun Farms set a tall goal for its attendance and crushed it this fall. The farm that hosted the popular pumpkin patch on the west side of Oahu has been wildly successful this year in providing a great family fun day to enjoy on the weekend.
Michael Moefu, Aloun Farms' event coordinator, initially estimated 24,000 people to come in the patch's three weekends in October. However, this year brought an estimated 40,000 people that had visited the pumpkin patch.
On the opening day there was an estimated number of 10,000 people, which is 4,000 more than last year.
"Nothing but smiles, " Moefu said.
Ewa Beach's Aloun Farms Pumpkin patch is on October 12-13, 19-20 and 26-27from 8:30 to 5 pm. The admission is $2 per person and children 2 and under are free. The prices of the pumpkins range anywhere from $4-$8. There is also other produce such as corn, green onions and herbs.
New changes were made to the pumpkin patch as opposed to last year. Last year's event created many problems like a dust issue, so this year wood chips were placed in the main entrance to prevent dusk from flying into people's eyes.
The west side of the island sees a lot of weather problems, such as heat, so this year a giant tent was placed as well as benches to sit on underneath, which was a great addition to the patch.
"This year was a better improvement since last year and was more fun," said Amy Harper, an Army wife who visited the pumpkin patch with her husband and son. "We really enjoyed the games and rides."
Turning it into a more family event by adding new things such as food venders, games, and entertainment, Aloun Farms was more fan-friendly this year. There was also a stage was for the community, such as Campbell and Kapolei High School's performing arts.
The goal for this year's pumpkin patch was to create a better atmosphere for families, the community, and especially for the military families since they are not able to experience the pumpkin picking back home. By creating a nice Halloween experience, they are able to create a more comforting feeling for the military families.
With pumpkins big and small, children and people were able to pick just the right pumpkin for them.
Not only does the farm give a family fun experience, but it also offers educational tours for children and families. During the week, there is pumpkin picking and tours on a hayride leading to weekend full of more family entertainment.
Aloun Farms has been around since 1977 and is known for its pumpkin patches during the Halloween season. However, this year it wanted to make it a goal to show other produce such as green onions, corn and herbs. Self pick produce such as sweet corn, sunflowers, kabocha and string beans
"We have heard so many good things this year and we will continue to do our best to make it better," said Moefu.
About the Contributor
Alohalani Foster, Staff Writer
Alohalani Foster is rooted from the ravishing island of Oahu. She is a senior and has chosen to major in the field of Communications with a focus in Marketing....