CUH's Small Business Fair successful
The Hogan Entrepreneurs Program helped launched its very first business fair alongside Chaminde University last Saturday. The 2013 Hawaii Small Business Fair titled  "Launch Your Dreams Into Reality" took place at Henry Hall on the Chaminade University campus from 8:30 a.m. to 1:00 p.m. There were a plethora of booths set up from diverse organizations offering workshops, information on programs being offered and more. The event was open to anyone who to wanted to attend and not limited to just Chaminade students.
"I organized my appointments over the past week and 98% (98 out of 100) people have shown up", said Denise Raia of SCORE, a national non-profit organization that provides free counseling for businesses.
"It's a good reception here," Said Raia. "I think that it's an awesome thing that we are here to promote something that people are looking for. We're happy to get people started in the right direction for creating their own business and helping others that have business already."
Various organizations such as HomeStreet, Pacific Business News and Pacific Gateway Center posted personal booths at with the fair giving out information in order to help people begin their own businesses. Banking assistance was offered from some famous bank organizations and some booths had businesses selling goods of their own. Hogan members were also proudly participating with their own business booths. Each booth had a representative that spoke on behalf of their organization and the various businesses spoke in a positive manner regarding the fair.
"We are very active in the community," said Mona Choy-Beddow, the vice president of the Honolulu branch of HomeStreet Retail Banking.
"We are always here to support the needs of the people; the small business owners and entrepreneurs," said Choy-Beddow. "I think this was a very busy fair. The people like what they see and the classes are fantastic. I recommend people to come to these events because of the free classes. I think they should do more things like this."
Chaminade Student, Hogan Entrepreneur and Interior Design Club president, Tessa Goble felt the business fair was an optimal opportunity with a large crowd. The club, Interior Design Professional Resource Organization or IDPRO, organized a booth for fundraising.
"It's been very positive," said Goble. "Everyone has been really friendly. It's good for our fundraising cause for our club to get t-shirts and food when speakers come."
A Chaminade senior in the process of creating his own business, Daniel Mercier, had comments on the fair. His business will be called RedTree Games and he has created several games on his own already.
"The booths have a lot of really amazing services that the state is providing," said Mercier. "I hope to see this grow. It's exciting to see students who are considering starting a business. I hope we continue to see more students from Chaminade get into this program."
The attendents of the fair weren't limited to citizens of Hawaii state. A number of visitors from around the country visited for the great offering of  information. The opportunity for free advice on starting your own business venture is not one that rolls around very often. A student from out of state felt positive on the outcome of the fair as a whole and shared her thoughts.
"I thought the fair was very well organized and informational," said Elyse Landerbille, a graduate from University of Portland, visiting Hawaii from Portland. "I got a lot of different strategies for opening a business."
About the Contributor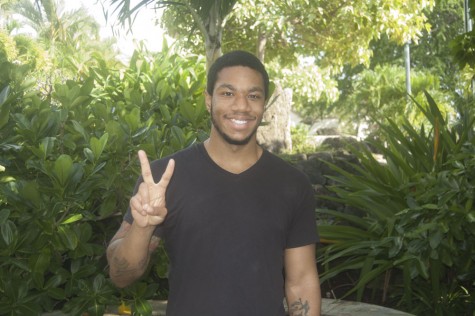 Winston Anderson, Staff Writer
Winston Anderson, a New York native, traveled across many states and waters with high hopes of studying Communications and Psychology in Honolulu, Hawaii,...