Pink Pajama Party kicks off Breast Cancer Awareness Month
Since October is Breast Cancer Awareness Month, Chaminade University decided it was only fitting to host a pink-themed pajama party in the middle of the day. Students and staff were asked to wear pink pajamas and show up to the Loo Center for a chance to compete for prizes. New Student Services hosted the Pajama Party on Friday, Oct. 4, in the Loo Center.
At the Pajama Party students were able to fill out strips of paper that said "for grandma," "for mom," "for sister," and leave either their name or words of encouragement if they didn't directly know anyone who had breast cancer. The staircase in the Loo Center was decorated with pink streamers for students to tie their strips of paper to. There were cupcakes too.
The pajama contest was the highlight of the afternoon. Two students were chosen as winners, senior Ani Artero and junior Adam Brewer. Each dressed to impress. Artero borrowed pink tulle wings from a friend from Valentine's Day, and she also wore a pink shirt and carried a pink pillow. Brewer was dressed in pink Hello Kitty pajama pants, and wore a pink panda robe and carried a tiny plush pink Hello kitty.
Brewer participated because his girlfriend's aunt has breast cancer, and he wanted to honor her. Brewer expressed that the event was fun, and this was his second time competing in the contest.
Artero said she entered the pajama contest to win.
"I was on it. I even went to Wal-Mart to find a pink boa, but they didn't have any, so I borrowed these wings from a friend," Artero said.
Artero's aunt passed away from breast cancer. The event reminded the CUH senior to honor her aunt by filling out a slip of paper with her name. Artero displayed her prize proudly: a pink cooler, with a bottle of water, and a pink koozie.
Students were impressed with the good turnout. The Pajama Party had over 30 attendees over the two-hour period, but only a few wore the color pink. The staff from Student Support Services and AAP attended the event in pink.
Another attendee, senior Genevieve Krier, was in pink, even down to her pink jelly bracelet, pink ribbon and watch arm candy. This event was to help raise awareness for Chaminade students about breast cancer.
"As females we need to support the one thing that sets us part from males," Krier said.
Krier learned about the pajama party through all the flyers posted around campus. Her aunt is a survivor of breast cancer. Krier created a slip of paper for her and hung it on the staircase with the rest. She noted that the turnout was great and feels that it is important for women to take care of their bodies. Krier wants to get a mammogram as soon as she can.
Breast cancer is the most common cancer among women worldwide, and with 67% of students being women, Chaminade is informing students about breast cancer in a fun creative way.
About the Contributor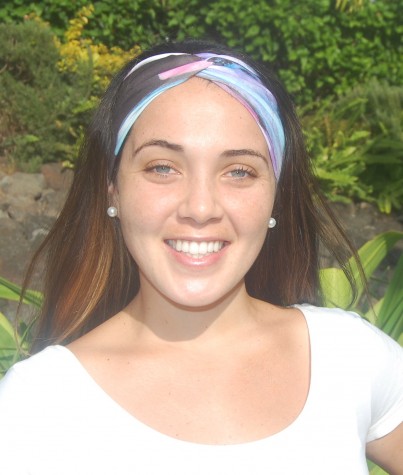 Teagan Waialeale, Staff Writer
Teagan is from the Garden Island of Kaua'i. She has lived on Oahu since 2006. Now a senior, Teagan is finishing her bachelor's degree in Communication...