Fans flood Waikiki Beach for 'Five-0,' Jonas Brothers
Once the sun went down in Waikiki, the stars of both "Hawaii Five-0" and the Jonas Brothers lit up the night with their remarkable talent.
For the show's fourth season premiere at "Sunset on the Beach," it was a night filled with stars. The stars included "Hawaii Five-0's" Alex O'Loughlin, Daniel Dae Kim, Michelle Borth, Taylor Wily and Al Harrington as well as the "Jonas Brothers" Nick, Joe, and Kevin.
Most of the "Hawaii Five-0" fans were well prepared for the premiere. Many had already set their beach chairs, umbrellas and even bags filled with snacks and water before 5 p.m.
"There is about 30 of us and we've been here all week waiting or this," said Leslie Curry from Sacramento, Calif., co-owner of a worldwide group called LLOL, Long Legs O'Loughlin. These ladies are dedicated Alex O'loughlin fans who traveled from all over the world just to support him and his works. "There are people from Australia, Austria, Canada, Belgium, U.S., Italy, England, Malaysia. We started about four and half years ago and now 1,000 plus members. We've been here for every Sunset on Beach. We book tours, do lua'au, did a North Shore tour, we did the bear state where McGarrett's house is of course, murder mystery, all this week."
Countless screaming Jonas Brothers fans, on the other hand, came much later during the evening with just a camera and phone in hand. They all somehow managed to push and shove their way to the front, trampling over mats and chairs that had already been placed in the sand.
"The Jonas Brothers fans are crazy," said Arielle Regis, a sophomore majoring in nursing. "I didn't know there was anyone that was still that crazy but pushing was definitely a problem."
However, there were a few dedicated Jonas Brothers fans that arrived dark and early that had prepared to spend the night on the beach.
"My really good friend, Alicia, is obsessed with the Jonas Brothers," said Mari Alvarez, a freshman studying criminal psychology. "Alicia and I came here (Waikiki Beach) at 2:00 a.m. and around that time there were around 10 people. Everyone started coming once the sun came up." Alicia was seen wearing a handmade Jonas Brothers shirt as well as carrying a handmade Jonas Brothers poster. Her excitement shined onto the people around her, really demonstrating the spirit of Aloha.
Despite the promptness of many of the fans, it seemed like last night's production crew at CBS needed a few tips on being on time.
"The fact that it was free I think that drew in a lot of attention," said Ashley Yadao, a junior majoring in psychology minoring in English. "The only bad thing was that the timing was completely off, because they were an hour late. Not just the Jonas Brothers but like the production with the whole, 'Hawaii Five-0' thing because they were supposed to show the show at 7 o'clock, but it wasn't showing until 8. So it kind of pushed everything back."
Around 8 p.m., everyone had taken their seats on the sands of Waikiki Beach to watch the first screening of the season's first episode of Season 4. Not only did the "Hawaii Five-0" fans enjoy the screening but many of the Jonas Brothers fans became engaged in the episode.
"Well, I'm not a huge fan of 'Hawaii Five-0,'" said Victoria Alvarado, a junior majoring in criminal justice. "I've never seen it. But after the season premiere, it got me hooked and wanted to know what going to happen next. I was very impressed and had an awesome experience and if I could do it again, I definitely would and I wouldn't change anything."
The episode ended leaving the entire audience in suspense.
When the credits started rolling, so did the screaming sea of teenagers. After just a couple minutes, the Jonas Brothers got up on stage to start their concert.
"It's a dream come true but five years later," Regis said. "Plus the episode of 'Hawaii Five-0' was really good!"
The stars ended the night singing a couple of their hit songs: First Time, Burnin Up, I Gotta Find You and others.
"I was writing an essay, and I just wasn't feeling very inspired," said Charity Kintzley, a freshman majoring in religious studies. "So I was like hey, I'll just go down to the Jonas Brothers Concert. I feel like I got my brain out of the clouds for a bit."
About the Contributor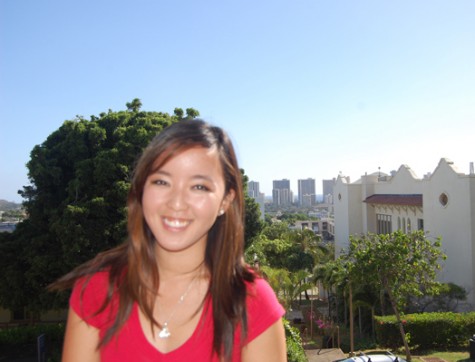 Remi Kohno, Staff Writer
Remi was born and raised in Pasadena, Calif. She is a junior majoring in Communication with a concentration in  Marketing. As an Orientation Leader,...