The return of Awakening
After taking a sabbatical last semester, students can once again experience the Awakening Retreat on Oct. 25. The Awakening is a retreat offered by Campus Ministry for all students to develop their relationship with God. According to Danny O'Regan, who is the director of Campus Ministry, the retreat is open to all students from various religions. It's a retreat where students become community builders, hear stories, grow in faith and be a part of something.
"Awakening was a place for reflection," said Faith Leasiolagi, a junior who has participated in Awakening three times, twice as a staff member. "It was right after midterms and right before finals, so it was like reflection on what I wanted to do. Where I wanted to head. I needed a break, so it was more of self-reflection."
"When I went on Awakening, I was a new freshman with a bad start at Chaminade," Tawnee Rollerson said. "And after experiencing this retreat, I was able to 'awaken' my faith, living in a new environment and getting to know new people. Awakening to me is a place of leaving the negativity at the door and reconnecting with yourself and your faith."
Rollerson, a senior who has gone to Awakening once and was a staff member for three others, feels that it's good that the Awakening has returned and that new students have the chance to experience it.
"It isn't made for everybody but if you do get the chance to experience it for what it is and for yourself, I believe that's all you can ask for," Rollerson said.
After losing former retreat director, Margaret Uiagalelei, at the end of the Fall 2012 semester, O'Regan wanted to take a step back to re-evaluate Campus Ministry.
"Take an opportunity to take a step back, take a breather and see what we do with Campus Ministry as a whole," O'Regan said.
O'Regan does not want students who have not participated in Awakening to feel as if they aren't a part of Campus Ministry. He wanted to develop the understanding of ministry. He wanted to give a broader sense of what it means to be a Catholic and Marianist with the spiritual development that students gain from the Awakening retreat.
"Because we were taking away this big thing, students came by and were saying 'What do you offer? If you don't have Awakening, what does Campus Ministry offer?'" said O'Regan. "That's what we're trying to change. We want to be able to say we have these retreats, we have these opportunities, we have service opportunities."
Due to lack of staff members last year they were unable to do Awakening. According to O'Regan, he was new to Chaminade and Brother Brandon had just returned. He felt that they it would have been difficult to do this event.
"Once you graduate, there's going to be no Awakening in your parish. There might be no Awakening experience when you go out into the world. So how do you have a sense of what faith is or spirituality is, if that's where you put all your understanding of spirituality into the Awakening retreat?" O'Regan said.
Awakening will be revived and will be a "big event," but it won't be the whole Campus Ministry. O'Regan said once you go to the retreat students will be able to "flow out" and be involved with Campus Ministry rather than just asking how to be a part of the Awakening. He wants students to extend what they've experienced from the Awakening into their daily lives.
"We still want 'Awakening' to be a part of that, but we don't want it to be the whole focus and the whole main be or and all," O'Regan said.
O'Regan wants students become more aware of their surroundings and the people around them. He feels that students in the Awakening family are aware of one another and what that person may be experiencing, but he wants them to be aware of everyone around them.
"We're still Campus Ministry," O'Regan said. "We're still here."
About the Contributor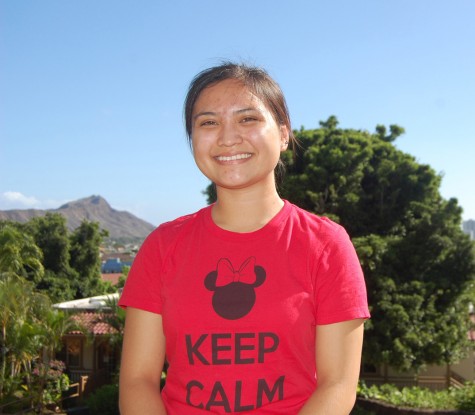 Alanah Torre, Staff Writer
Alanah Torre was born and raised on the island of Guam. She graduated from Academy of Our Lady of Guam High School. She is currently a junior at Chaminade...