Logos come from creative minds
Logo designs are created by spontaneous inspiration. Until Sept. 25, a logo design contest is open to the whole student body and faculty. The logo contest is the first ever for the program, since an official logo never existed.
With the contest happening right now, it is an opportunity for the program to commence into a rebranding phase. Once the rebranding phase is done the program will have a rebranded name that people will identify. "To have an identity, because this logo will appear in many different places." said Joan Riggs. Joan Riggs, a professor of Environmental and Interior Design, is also the program coordinator for the contest. From Aug 1 of this year, the program received accreditation, thus Riggs made the decision to make the contest.
From the accreditation, Riggs looked up at the interior design section of Chaminade's website. The logo for the university appears all over the place. All of the classroom clocks have been replaced to clocks that show the Chaminade logo. That was when the professor wanted to make the program stand out from before. Students from the program pitched their designs for this contest taking the first step of the rebranding phase.
For the contest, anyone from the student body and faculty will vote by turning in ballots. About 34 designs are posted on the wall at the first floor of Eiben Hall. All of the designs are numbered, so that nobody knows who created the design.
After Sept. 25, the counting proceeds and the top 10 will be announced a few days after. In October, judges will decide the top three designs. Later on, the ultimate design will be announced and the contest will have its ultimate winner. Prizes will be given out to the top three winners. Then a grand prize will be given out right after to the overall winner. The prizes have yet to be revealed until at the end of the contest. Mystery is the key element for this event, because of the amount of curiosity that is growing.
"It's a good idea to keep it anonymous. Makes it a little more fun too," she said.
Another event, such as the Wahiawa Façade Design competition, commenced in the fall of last year. Riggs said it was a kickstarter for the interior design students to try out their abilities and compete.  From that point on, the identity was born for the program; however, it was only the tip of the iceberg.  The logo contest of Environmental and Interior Design is the rest of the iceberg that's going to be broken soon. With the voting going on as of now, the victors will be the one to break the ice and the identity will gain more recognition.
About the Contributor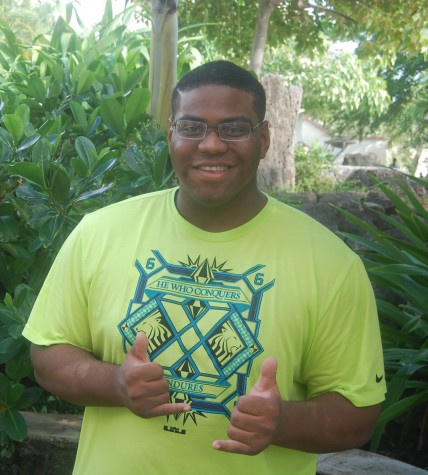 Dray Thompson, Staff Writer
Dray was born and raised from the island of Guam. He is attending his junior year at Chaminade University and pursuing a bachelor's degree in Communication/Broadcasting....