Club Fest: Welcoming new members to the CUH family
Chaminade University's annual Club Fest occurs early in each school year with the goal to familiarize students with each other and with the numerous clubs on campus. This year at the 2013 Chaminade Club Fest that goal was well beyond achieved according to Naomi Aguon, a graduating senior.
"Every year I look forward to Club Fest," Aguon said. "I enjoy seeing and learning about all the different cultural groups as well as other clubs that our school has to offer. This year was clearly a success."
On Sept. 4, Club Fest was scheduled to begin at 12:30 p.m., but some student officers came more than an hour before the event began due to the Club Fest policy that every table was "first come, first serve." However, through this limited number of 25 tables, the camaraderie among Chaminade students could be seen with such clubs as Tahitian Club sharing tables with the Chaminade English Honor Society.
Club Fest gives club officers a chance to meet and possibly collaborate on school service projects. Laura Crutchfield, vice president of Chaminade English Honor Society, could be seen talking to Tawnee Rollerson, president of Tahitian Club. This semester the Chaminade Tahitian Club will join up with the English Honor Society to host a book drive on campus during the spring semester. Together, they will be fulfilling community service requirements, and the Chaminade community will be able to donate books to children who need them.
One club that experienced something new this semester during Club Fest was the Rugby Club. James Van Raam, club officer and leader of the Chaminade Rugby Club, has never seen so many women sign up.
"In the past we have had between one to five women sign up for Rugby Club," Van Raam said. "This year the number of women signed up is around 32 girls." This is due to the fact that Van Raam emphasized that your gender doesn't matter, as long as you bring your energy and have fun.
Two other clubs that made an appearance at Club Fest was the Surf Club and the Filipino Club, or T.G.I.F., which stands for "Thank God I'm Filipino." According to the Office of Student Activities and Leadership, the Surf Club decided to establish itself again this semester. Members of this club are able to enjoy surfing or learning how to surf, despite where they come from or their level of experience. The Filipino Club is another club that came back, and has huge plans for their semester. Culturally enriching, members will be able to share the Filipino culture with the Chaminade community once again.
Club Fest also is effective in motivating club officers to start planning their semester. With a list of students eager to join, club officers can more easily wake up from summer and begin establishing important aspects such as meeting times and service projects. Each club is required to do service projects in order to receive funding from Chaminade. Every year OSAL provides the resources to make Club Fest a successful event.
Makerusa "Mak" Porotesano, director of OSAL, hosted the event directing students to the different tables and treats available to them. The Office of Student Activities and Leadership even gave each club officer a chance to speaking into the microphone, introducing their club and activities. Club Fest succeeds in bringing together returning students and freshmen.
"I believe it was a great opportunity to meet people who share common interests with me," freshman Crishelle Young said. "It made me excited to attend club meetings."
About the Contributor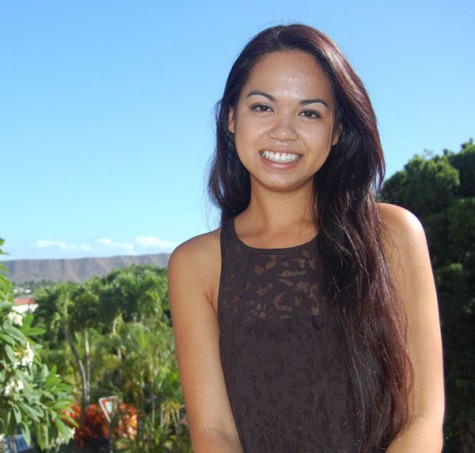 Kanoe Perreira, Staff Writer
Kanoe Perreira was born and raised in Honolulu, Hawaii. She is a senior majoring in Communications with a focus in Broadcasting. Her career aspirations...