Freshmen audition for the leads
On Wednesday, Sept. 3, students quietly filled out forms in the Loo Theatre and bubbled with excitement and nervousness as they patiently waited for auditions for the Fall 2013 productions to begin.
Seven students attended the first day of auditions for Chaminade University's fall productions "Flowers of Algernon" and "Five Women Wearing the Same Dress."
Unlike other auditions where students sing or read a part of the dialogue for the role they want, the directors has instead assigned roles for the students to act. The directors were watching how each student performed in the scenes, even if they hadn't called for them to participate in the play they were directing. From time to time the directors would correct and encourage students to present the characters in a specific, whether it was to simply speak slower and more analytically or to enunciate but still sound like one was having an emotional break down.
Among the seven students who auditioned were Ashleigh Taylor and Marchella Versteegh, two freshmen that love to perform on the stage. Taylor admitted to not knowing about either story but didn't showed it as she acted the scenes given to her with the emotions to needed to create a reaction from the audience.
"Telling myself that it's OK. You're not gong to die. Calm your nerves," Taylor said she told herself.
While Taylor had gone into the auditions with no knowledge about either play, Versteegh had done some research to better understand the story and characters. She admitted to liking the character, Meredith in "Five Women," after having read the character descriptions.
"My home is the stage," Versteegh said. "I love performing, acting, singing, everything. So I just walk in take a deep breath and go."
Taylor, 18, had taken an interest in the role of Alice Kinnian from "Flowers of Algernon" and Meredith or Georgeanne from "Five Women Wearing the Same Dress."  She feels that it's easier to be a character that is nothing like her personality. If she were to play a character that is too similar to her, it would be difficult to differentiate whether she's acting enough or simply being herself.
"It's like I can do whatever I want," Taylor said.
Versteegh, 19, has participated in 13 musicals but performed her first drama during her senior year of high school. Not only did she take an interest in Meredith but also said that Georgeanne was also a fun character to play. Unlike Taylor, who finds it easier to perform as character different, Versteegh finds it easier. She explains how Meredith is the outspoken person she can't be.
"Some of the stuff she said I was totally thinking, but I wouldn't say out loud. And she just gives me a way to say it," Versteegh said.
According to Br. Gary Morris, who is directing "Flowers of Algernon," the play is about a severely mentally handicapped 32-year-old man named Charlie Gordon, who goes through a procedure that increases his intelligence to a genius level. He later finds that his newfound intelligence is only temporary and looks for the reasons for the decline.
The second play, "Five Women Wearing the Same Dress," directed by Fr. Robert Bouffier, is a comedy set at the bride's home during the wedding reception, where the five bridesmaids take refuge in the bride's younger sister's room.
According to Morris, when "Flowers of Algernon" is done, the audience will not only laugh and be happy for Charlie but will also feel sympathy and sadness for him.
"It's one those kinds of things that moves people in a very real way," Morris said.
Unlike "Flowers of Algernon," the play "Five Women Wearing the Same Dress" will have the audience laughing as the play goes on.
"It's lost friendship, crazy relationships. It explains all that in a humorous way," Bouffier said.
Not only do Taylor and Versteegh have the same interest in characters and love to perform on the stage, but they also major in Forensic Science. They laughed at how different their intended major of math and science was different for their love drama.
"It's a good way to get away from everything that's concrete and do something that you can kind of mess with and play with," Versteegh said.
About the Contributor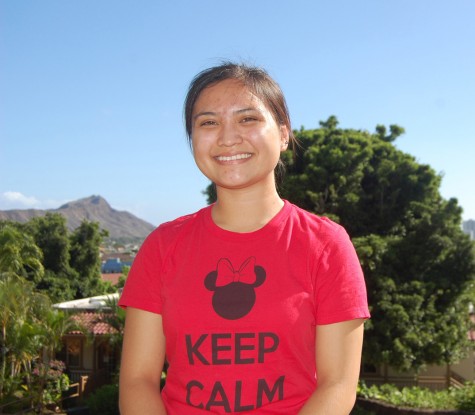 Alanah Torre, Staff Writer
Alanah Torre was born and raised on the island of Guam. She graduated from Academy of Our Lady of Guam High School. She is currently a junior at Chaminade...