A wave of new water fountains at CUH
The "green" water fountains have finally filtered to Chaminade University of Honolulu. Parched climbers of the famous Chaminade Hill now have five new sets of fountains that dispense cold-filtered water in a matter of seconds.
The Elkay EZH20 Bottle Filling Stations were installed at CUH this past summer at various areas on campus. Teachers, faculty members and students are starting to take notice of this new trend. "It's (the Eklay H20 filling stations) great," said Floresa Alohi Santos, a 20-year-old nursing student. "As an avid runner I take my gallon container everywhere, and it helps knowing that there is safe running water available in most areas of the campus."
These filling stations allow you to place your bottle upright as opposed to our traditional water fountains that force you to tilt your bottle at a 45-degree angle, only to fill it up half way.
"It is very helpful and easy to use," said Kevin Fajardo, a 20-year-old computer science major. "It makes it easier to refill water bottles."
Before, Fajardo would buy two to three plastic water bottles "depending on the day." Now with filling stations on campus, he has chosen to go green and buy just one plastic bottle, which he then refills at one of the fountains throughout the day.
Each filling station is sensor activated, eliminating nasty germs that usually build up from traditional water fountains.  Many students are still unsure about the quality of the filtered water that comes out. But according to the website ElkayUSA.com, the filling stations are "certified for particulate, chlorine, taste & odor and lead reduction." It also states their stainless steel sinks protect "against mold and mildew growth."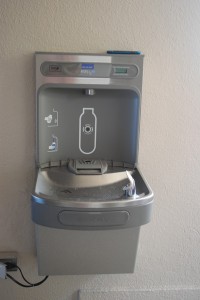 Just place the bottle under the dispenser and watch as free, cold, filtered water runs straight into your reusable water bottle.
While saving college students money, it also encourages an ecofriendly habit. A green ticker is placed on every station counting the number of bottles that are saved from our landfills every time someone fills up.
"Our new water fountains are like a pedometer," said Clarisen Tuliao, a 19-year-old elementary education student. "A person who can see the amount of calories burned and how far they walked tend to be more motivate to walk further and longer. Counting the number of plastic bottles saved from landfills encourages people to visit the filling station more often, like a person with a pedometer."
These filling stations can be found in various areas around campus. According to Ramon Lopez, Chaminade's Facilities Office Manager, three filling stations are located in Henry Hall, one on the second floor of Eiben Hall and one in the basement of Clarence T.C. Ching Hall, near the Financial Aid Office.
"Each station costs around $700 to $800," said Lopez, which doesn't include the price for eliminating the old fountains. Facilities is hoping to install at least one every few months, the Sullivan Family Library is the next ideal area for these filling stations.
About the Contributor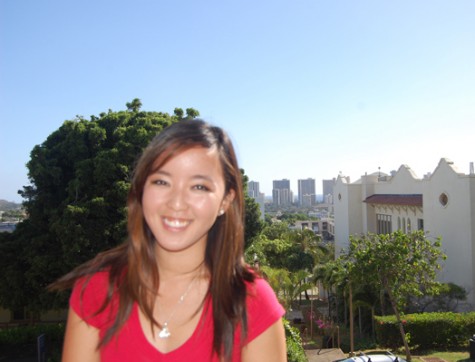 Remi Kohno, Staff Writer
Remi was born and raised in Pasadena, Calif. She is a junior majoring in Communication with a concentration in  Marketing. As an Orientation Leader,...