Sand, sun and volleyball
Queens Beach in Waikiki was brimming with enamored fans on Saturday March, 16 who stopped by to support their favorite female volleyballers from University of Hawaii at Manoa, Hawaii Pacific University, Florida International and Chaminade University.
The Lady Silverswords spent their entire day in the sun starting in the morning, battling in the all-day second annual sand tournament hosted by the UH Manoa.
"Last year we participated in the first annual UH tournament," said Chaminade's defensive specialist, Brenda Walker. "But this year we had our new recruits and I feel we did a lot better."
Chaminade came out of the competition with five team victories, one in consolation match and the others in exhibition. With a better record than the previous year, the Lady swords look back at the tournament as a great learning experience to be applied in the upcoming court season.
Training and practice for the Lady Silverswords became more disciplined under the direction of new Head Coach, Kahala Kabalis and their hard work and preparation showed as each player did their best to apply what their new techniques.
"We would have beach practices before school or during school," said Chaminade's defensive specialist, Darcie Horiuchi. "Even though it's harder, it's a lot more beneficial."
With beach training; specializing in doubles practice, the team noticed rapid progression in skill both on the sand and in the gym.
On the court, the team was accustomed to playing six-man games, each player contributing to the play in their specific position. Playing doubles on the sand pushed the limits of the players and forced them to rely entirely on communication, skill an their partner.
"Playing in doubles forces you to have communication with your partner," said Walker. "When it's just you and your partner, that's all you've got. You have to use them as your back bone and fight to the end."
A duo combination that demonstrated the truth behind teamwork and communication was doubles partners, Kapiolani Rapoza and Daniella Montoya, who came out with a win for Chaminade in their set against Florida international.
"We were really excited to take the win," said Rapoza. "It's a good feeling when all your hard work pays off."
For Montoya and Rapoza, they approached the match strategically and made sure that there was constant talk on the court.
"We tried to keep our passes as close to each other as possible," said Rapoza, "and when going up to attack the ball, we would tell each other where the open spots were on the opposite court."
Like every athletic team, there's the point in the game that seems too difficult to overcome. The critical times are when players push their limits and see great results.
"I was ready to give up because we were down by so much." "But with my partner encouraging me, I was able to get my head back in the game and make a huge come back."
Each participating athlete gave it their best effort in the sets throughout the tournament. Some players proved that they were mentally and physically prepared for the tournament and that there was no room for self doubt.
"The tournament was a lot more than what we expected, but we had a great time." "It was a great opportunity that opened our eyes to see that we still have a lot to learn."
About the Contributor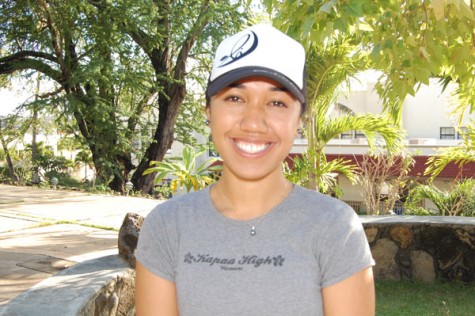 Lei Ui Kaholokula, Staff Writer
Born and raised on the island of Kaua'i, Lei U'i Kaholokula aspires to take her education in Communication and Mass Media to greater heights and become...