One of the proudest accomplishments any parent could ask for is seeing his or her child walk across a stage receiving a diploma.
Many people aren't as privileged as those living in the United States to receive a good education. Depending on where you live, some people just can't afford to put their kids in school.
According to globalangels.org, around the world 130 million children lack access to education, 104 million children aged 5 to 12 do not attend school, and 246 million children are child laborers, which is one of the main reasons for not attending school.
Being able to read and write is essential skills to have in life. Estimates of nearly 40 percent of U.S. fourth graders do not achieve the basic levels of reading proficiency according to rif.org. The percentage is higher for low-income families and certain minority groups.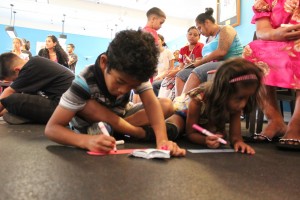 For the past year until now, the Micronesian Club and Lumanai O' Samoa club (LOS) have come together and paired up with the Hawaii Literacy Program to help people gain knowledge and skills of literacy and lifelong learning services.
It all started with a meeting with Tamara Martinez, family literacy program manager, of the Hawaii Literacy Program during the fall semester of 2011. Desiree Yamase, 23, graduate assistant of Office of Student Activities & Leadership (OSAL) met with Martinez and started to plan ways that they could get involved and work with the literacy program.
The Family Literacy Program takes part at two libraries/community centers for the residents of Kuhio Park Terrace and Mayor Wright Homes. Volunteers help kids improve their literacy skills, help run educational activities and story hour events.
The program they collaborated on was Tales and Treats. They wanted a name that was original yet catchy for the students because most of the students were in elementary school. Tales represents the stories that would be shared, and treats represent what would be given to the students.
After figuring out what can be done to get involved, OSAL reached out to the Micronesian and LOS clubs. Members who participated attended a training session where they learned leadership and cultural competence skills, how to work with the kids and creating skits to present as stories for the kids. Once training was finished they went to their first site, Mayor Wright Housing.
"It was all trial and error because we didn't know what worked and what didn't work and was just following what Tamara suggested to do," Yamase said. "From that semester on, we have just been building off from that first experience and have been successful."
After volunteering at Mayor Wright, the clubs invited the kids to Tales and Treats on campus, sponsored by OSAL and campus ministry, and spent the day doing fun activities.
This year, the clubs went to a new site at Kuhio Park Terrace.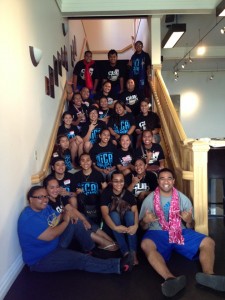 First-year volunteers, Angel-Baby Ifopo, 18, a freshman majoring in criminal justice, and Martin Moore, 18, a freshman studying international studies, decided to take part this year because most of the children are Samoan and Micronesian and felt as if it was their responsibility to be role models for these kids because their communities lack positive role models who further their education to college.
Seeing the excitement on the kids' faces, hearing their laughter and being the ones to brighten their day was a favorite feeling everyone shared. The bond that they make with these kids just gives them the energy to keep coming back. Knowing that they are able to do something positive for these kids and help them be successful is ultimately the goal they all want to accomplish.
One highlight that Ifopo had this semester was during an activity where everyone, including the parents, were all given a sheet of paper and had to write down what they got out of tales and treats. They then took those papers and made them into rings and connected it like a chain.
"It portrayed that bondage that was made will forever be connected and it will be memories for not just us but for them to keep," Ifopo said. "And hopefully next year when other kids see it, they will want to be a part of it."
The impact that these clubs have made has been nothing but successful and positive. This semester, the Hawaii Literacy program awarded both clubs Volunteer of the Year.
Even though there were many highlights that happened throughout the year, Faith Leasiolagi, 19, sophomore and second-year volunteer, shared a special moment when she went back to visit families she had met at Mayor Wright.
"I have been with this program for two years and the best memory I had was when I returned to Mayor Wright and the little kids remembered who I was," Leasiolagi said. "It was like me being there helping out, it inspires them [because] they still remember… they look up to us and want to strive to be where we are… we are really helping them by being there and providing that imagination and curiosity of looking in to college."
For more information on how to volunteer, go to www.hawaiiliteracy.org.