Ceramics department busts out Pot Sale
Clay-stained chairs were stacked away and canvas worktables were covered on Friday, April 26, because Chaminade University of Honolulu's only ceramics lab was packed with curious students and faculty for Yukio Ozaki, Chaminade's ceramics and three dimensional design professor, semi-annual Pot Sale.
Since Ozaki first started teaching at Chaminade in 1986, he cancels his classes every semester for one day to hold the Pot Sale. Ozaki and five of his ceramic students tag teamed to help with sales from 12 p.m. to 6 p.m. The sale was filled with not only Ozaki's enormously extravagant sculptures and articulate pottery-bowl sets, priced around $100, but also contained the interestingly abstract and well-structured figurative pieces of his students priced from 10 cents to $10.
"In ceramics class, the best thing to advertise is to have a Pot Sale and let people come in and see what kind of things can be made in ceramics and how artistic it can be," Ozaki said.
Ozaki admitted when he was first offered the teaching position in the '80s, the enrollment was extremely low and the department didn't have much money. He was also shocked to find the extreme lack of necessary supplies in the lab. By generating the Pot Sale, Ozaki was able to raise money for the ceramics class and bring awareness of the class. Now with the success of his lab and class, he feels that the Pot Sale has become more of a tradition bringing in new shoppers and interested buyers.
First-time buyers and Chaminade students, Genevieve Krier and Angelica McDonough searched for art pieces to decorate each of their homes. Both Krier and McDonough were encouraged by one of their professors to check out the semi-annual Pot Sale, but their love of art grabbed their attention of the uncommon student work. Krier, a former beginning ceramics student, bought two bowls for 35 cents and McDonough bought three student pieces for 65 cents.
"We're savvy shoppers," said McDonough, a junior and a History major at Chaminade.
Ozaki admits that since the economic downturn, the Pot Sale hasn't been as profitable as he would like it to be. Ozaki averages about $500 in total sales from this Spring, but only 10 percent of that goes back to the class to buy materials and 90 percent goes to the artists. Although sales been up to Ozaki's standards, he wishes that more students submitted more pieces to sell since student work has lately been the main attraction of the sale.
Terry McCandliss-Dowdell, who is the assistant to the director of the education division, is now a regular customer. McCandliss said she walks pass Ozaki's famous Japanese styled "art pot sale" sign flying over the stairs located in front of the Fr. Chaminade statue every semester grabbing her attention to first come into the Pot Sale. This is McCandliss' third time as a customer, and she typically buys gifts for guests that come to visit the Education department. McCandliss feels that it is more meaningful to give a small pot made by a Chaminade student than to give a mug with the Chaminade name painted on the front. She also admits because the prices are so reasonable, it brings her back each semester.
The Pot Sale attracts both faculty and students every semester. The sale was originally produced to increase enrollment of the dying course. Today, his spotless lab is filled with students every semester with some semesters having a wait list for his Beginning Ceramics. The sale was once filled with only Ozaki's ceramic sculptures, but today new and returning customers are attracted to the students' unusual and interesting ceramic sculptures.
About the Contributor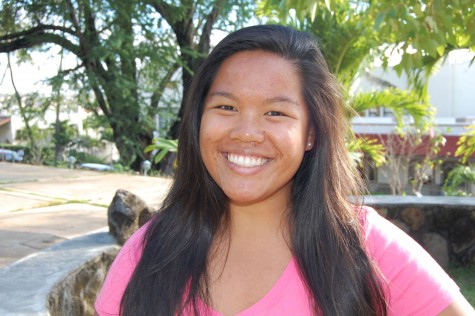 Mariah Villanueva, Staff Writer
Mariah was born and raised in Kapolei, which is informally known as the "second city." She is a junior and majoring in Communications in Marketing. After...