"Feed me Seymour, feed me!"
"Feed me Seymour, feed me!"
The human-eating venus flytrap, Audrey II, came to life at the Mamiya Theatre on April 18 in Chaminade's production of the dark yet comedic musical, "Little Shop of Horrors."
According to the director's note, "Little Shop of Horrors" is classified as a comedy horror rock musical, based on the low-budget 1960 black comedy film "The Little Shop of Horrors," directed by Roger Corman. The music is a combination of early 1960s rock and roll, doo-wop and early Motown.
This musical has been performed all over the world. And because of its small cast and relatively simple orchestrations, it has become popular with community theaters, schools and other amateur groups.
Director Brother Gary Morris and Musical Director/Conductor Timothy Carney decided to put on this production because similar to last year's spring semester's play. "The 25th Annual Putnam County Spelling Bee, "they wanted to spotlight and feature individual students and soloists. They found that a smaller cast is simpler compared to past plays such as "Music Man," "Oliver," and "Fiddler on the Roof" that contains a larger cast of about 45 – 50 people.
If anyone has ever seen the original production before, most viewers would know that this play is quite dark and gruesome. However, that wasn't the direction Morris wanted the play to follow in.
"The first time I saw it, I didn't really like it," Morris said. "It was too serious, it was too dark when I saw it … it has to be up and really a spoof and a lot of fun, so we tried to make it that."
Opening night is all about the audience. Morris believes the heart of live theater is the actors and the audience. The audience has to be able to respond to the show and their responses are basically the feedback to the cast of what works and what doesn't work. The actors and audience energize each other.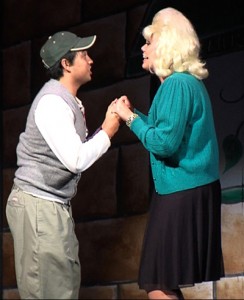 During the entire show, there was nothing but cheering from the audience, and the cast was able to successfully feed off of their energy.
"The feel of opening night is always electric and it's the first time you have an audience there," Morris said. "[The cast] starts getting reactions back from the audience, seeing what's funny, and what the audience like."
From Seymour's (played by Kaipo Leopoldino) timid yet charismatic personality to Audrey II's (voiced by Scott Lewis) demanding although persuasive ways to get Seymour to provide it with more blood, there was nothing but laughter coming form the audience.
The crowd for opening night on Thursday, April 18, although small, was big enough for the cast to vibe off of and was "one of our performances," Morris said.
Two members of the cast, Leopoldino, 20, who played Seymour Krelborn, and Martin Moore, 18, who played Audrey II puppeteer, both agreed that opening night was fun and a good first night.
For Leopoldino, this will be his third play and biggest lead role to date. He has previously starred in Chaminade's production of "Oliver" and "The 25th Annual Putnam County Spelling Bee."
For having previous knowledge of the play, Leopoldino knew he wanted to audition for the awkward yet adorable role of Seymour. When asked why he had auditioned for the role, he said Seymour and himself have similar traits. From not being able to talk to your crush to Seymour's geekiness, Leopoldino was able to embody the role of his character.
"My favorite song was 'The Meek Shall Inherit,'" Leopoldino said. "Everything is being thrown at him at once and he is realizing how much success he can garner from feeding the plant but he is torn between what his conscience is telling him he is doing is wrong and his love for Audrey and wanting to impress her, which is what drives him to keep doing it."
Like many performers, Leopoldino was very nervous on opening night. He didn't know exactly what to expect since he knew the play contained comedic moments and lines that he had to memorize.
"… But up until we get an audience, you don't know how people are going to react to the lines," Leopoldino said.
About the Contributor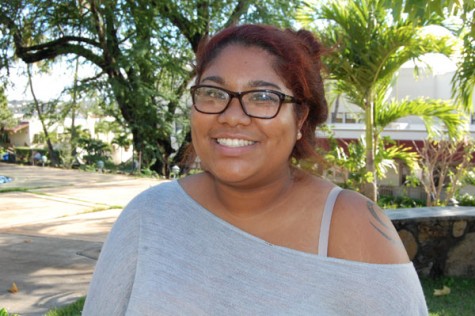 Tawnee Janae Rollerson, Staff Writer
Tawnee Janae Rollerson, a California-born native, is originally from Milpitas, CA. She graduated from Archbishop Mitty High School in San Jose, CA.  Tawnee...