Lacrosse new to CUH community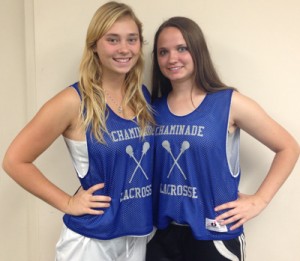 The office of Student Activities & Leaderships (OSAL) offers and encourages students to start up clubs of interests they are passionate about and willing to share with the Chaminade community.
With more than 30 plus clubs here at Chaminade, students have a wide variety of clubs to participate in. If students want to learn about a new culture or spread more knowledge of their culture, there are clubs such as Hawaiian Club, La Familia Spanish club and Micronesian club. Or if a student is interested in a particular major, there are clubs such as the Nursing club, Criminal Justice club and Interior Design club.
If none of those clubs grab students' interest, OSAL offers sports clubs such as Surf club, Silversword Football club and the newly started Lacrosse Club for those who have a more active lifestyle.
Shea McCormick, 20, and Kristen "Rothy" Rothermel, 21, juniors at Chaminade University, both have a love for lacrosse and wanted to bring the fun sport to campus and share it with the chaminade community.
Both McCormick and Rothermel learned to play lacrosse in high school on the mainland but stopped playing once they came to college. Nowadays, they just play for fun and teach friends how to play.
"When Shea and I met freshman year, that one was one of the first things we talked about," Rothermel said. "Both of us played lacrosse but no one else here knew what the sport was."
The idea began when Rothermel decided to dust off her sticks and play some catch at the beach with McCormick. It then came to the point of willing to start up a new club the day before club registrations were due. They were able to accomplish writing a constitution and budget report in less than 24 hours.
Bringing lacrosse to Chaminade gives both male and female students the chance to learn and play the sport and create a possible team and play around the island.
"We're hoping to research around and find other island clubs or team up with other schools or organizations," McCormick said. "We don't have enough for a full team and we also don't have enough equipment, so we're hoping we can team up with another team or recruit more people who are interested in playing."
McCormick and Rothermel are in the building stages of their club and are trying to find ways to get people more interested and teach students how to play so that they can eventually play other teams.
Although they had a lot of students sign-up at the spring semester club fest, they have a dedicated seven members who have been attending small practices learning how to play the sport. Freshman George M. Duran, 18, is one of the few who have been attending these practices regularly.
"I have only been playing for a weeks and I love it and it is really fun," Duran said. "I have heard of lacrosse and seen it on TV and magazines, and it looked really cool."
The lacrosse club is still taking students who are interested in learning how to play. Active members meet up at Kapiolani Park at 12:30 p.m. every Saturday and practice. Also, look out for club members wearing their club jerseys.
About the Contributor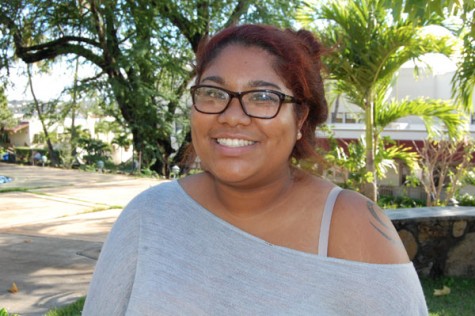 Tawnee Janae Rollerson, Staff Writer
Tawnee Janae Rollerson, a California-born native, is originally from Milpitas, CA. She graduated from Archbishop Mitty High School in San Jose, CA.  Tawnee...