Life in a box: Cardboard City
Lying under the stars and camping outside sounds like a fun time, especially with a group of friends. But what if instead of sleeping a in a warm sleeping bag, the only choice given was a cardboard box?
On Wednesday, Feb. 27, Chaminade students were given the opportunity to experience first-hand what homeless citizens endure by sleeping in cardboards while raising awareness of homelessness as part of Campus Ministry's Cardboard City program.
Jordan Zizzi, a senior at Chaminade, was one of six students that decided to stay overnight and sleep with cardboard boxes on the Sullivan library lawn.
"It was fun but I was the only one who stayed up really late because it was chilly and I don't like the cold," Zizzi said. "We were just goofing around, telling jokes and talking story."
More than 25 percent of the homeless are children, and 25 percent of those in shelters have graduate degrees said Danny O'Regan, Campus Ministry director. No one is immune to being homeless.
Homeless people don't get the luxury of having warm beds to come home to or even a house. Sleeping outside is not particularly a glamorous lifestyle. They have to deal with all types of weather, are easily prone to getting sick and must avoid police who are "sweeping" clean the area.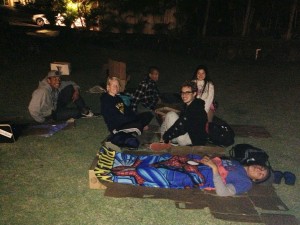 "This was an opportunity for students to spend a night outside and to be in solidarity with our homeless brothers and sisters," O'Regan said. "Sometimes we hear a lot about homelessness and we sometimes see homelessness, so tonight is about experiencing what it is to be homeless."
O'Regan hopes that through this program, students will use what they have learned to help serve those who need the most help. They can use their creativity and skills to better advocate issues and help raise awareness. This project of advocacy helps open the minds of others to want to engage with the homeless and change their perception of them.
At the event, guest speaker, Manny Nitullama, a friend of O'Regan's, was invited to speak to the students about homelessness and also about his and O'Regan's new project "All in the Village." Their project is geared toward impoverished people. It helps individuals in the low-poverty bracket such as single women with children and people who live on the street. Nitullama believes this program will be cultural, resourceful and self-sustaining.
"I would want them to recognize the essence of homelessness and just the whole ordeal of being outside," Nitullama said. "[And] recognizing being on the streets with danger and having no support and not having a place to turn to."
Although this program was a good way to challenge students to unplug themselves from their daily lives, they did not grasp the concept of being homeless. They were having an experience on the campus and still accessed their electronics such as their cell phones, iPods and computers. The point of being in solidarity with the homeless seemed as if it didn't have much of an impact and more of random sleepover at Chaminade.
"It kind of felt like it was kind of just put together to have something," Zizzi said. "And I don't feel like I got the full experience because I still had my electronics and stuff, so it wasn't like I put myself in the right mindset."
About the Contributor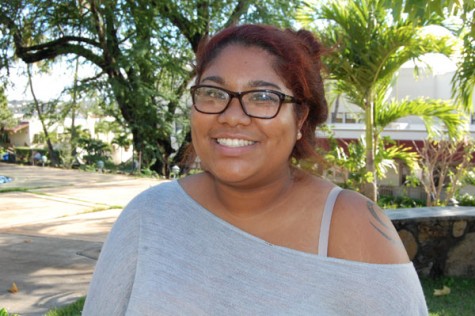 Tawnee Janae Rollerson, Staff Writer
Tawnee Janae Rollerson, a California-born native, is originally from Milpitas, CA. She graduated from Archbishop Mitty High School in San Jose, CA.  Tawnee...