Chaminade students get their taekwondo on
The impact of kicks and punches against the practice hand targets echoed throughout the Loo Center on Monday night.
Two Chaminade students learned the basics – for free – of taekwondo taught by Master David Ippen, 34, at the Loo Center in a class offered by the Office of Student Activities and Leadership.
"A big part of traditional taekwondo, the way I learned it, is community service: to help others," Ippen said. "One saying we have is 'the strong helps the weak,' and we become strong so we can help others that are not strong as we. I see it important not only to spread taekwondo and to make people aware of it, but to also give it to other people, so it helps them."
Tae Kwon Do is one of the several events OSAL offers. OSAL also offers self-defense, a hybrid of yoga and Pilates, and Zumba classes.
"We want to promote health and wellness to the student body, and we just want to provide the students activities they want to do maybe outside of class," said Yamasi said.
The class had five students. Moore was one of two Chaminade students who showed up; the other three were students of Ippen.
Class began with stretches. After, Ippen taught a traditional blocking stance followed by a punching technique. Other techniques included blocks, front-snap kick, ax kick, roundhouse kick, side kick, knife hand strike and palm strike.
"I learned how to kick someone in self-defense," said Martin Moore, 18, a Chaminade freshman. Moore said he has had no previous experience of martial arts or self-defense.
Throughout the class, Moore and the other Chaminade student got lost several times. However, Ippen was patient and told them not to worry because they were beginner. Because of small class size, both students were able to receive attention when they were struggling or while he was teaching a new move.
One student asked Ippen's students if they were doing the move correctly during the one-on-one practice sessions.
During demonstrations, students were often seen smiling and laughing as Ippen cracked jokes and gave examples on how to deal with certain situation like when someone is being harassed. He played as the harasser, and his students would show what move to use. He then would follow up by informing which body parts to aim for and how some areas are more dangerous than others.
"I like that the instructor was very knowledgeable and knew what he was talking about," said Moore, who is majoring in international relation.
If taekwondo is popular enough, Yamasi said she would like to bring it back next semester for Chaminade students.
About the Contributor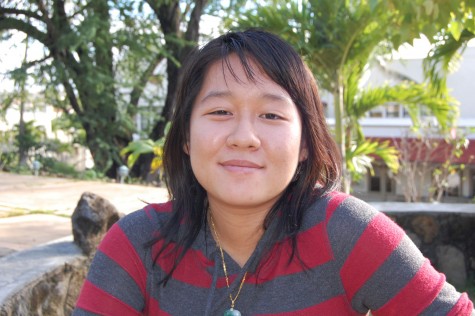 Jasmine Cho, Staff Writer
Jasmine Cho graduated from President William McKinley High School. She is currently a sophomore at Chaminade University of Honolulu and is majoring in...