Las Posadas procession and Lighting of the Campus ready Chaminade for Christmas
Every year, Chaminade University gets into the Christmas spirit by decorating Ching Hall and its surrounding area with bright lights and Christmas trees with its annual Lighting of the Campus on Nov. 26.
Before the switch is flipped to turn the decorations on, a re-enactment of Mary and Joseph searching for a place to stay so that Mary can give birth to Jesus is done. In the Mexican culture, this is one of many activities done during the season called Las Posadas.
This year, Cristina Romero, president of the La Familia Spanish Club, organized the event after the club 's advisor, Dean of Students Grissel Benitez-Hodge, suggested that the club to team up with Campus Ministry.
"This is a big event in the Catholic Mexican community," said Romero, 20. "The one we did was just the procession of Joseph and Mary, but we also celebrate when Baby Jesus is born and they do prayers, chants, and give away more food and candy."
Trying to keep the procession as traditional as possible, the group of 15 students and faculty began their journey from Kieffer Hall, and they sang two verses from the traditional song called "Villancicos de Navidad Las Posadas" which represents Joseph and Mary's journey finding a place to give birth to Jesus.
Carols were sung between stops as the group travelled from Keiffer to Hale Malia, where the brothers reside, to the front of Ching Hall where at 7 p.m. the lights lit up the front of the building.
"I enjoy embracing cultures and getting involved in the community with good people," junior Tierra Mercer, a member of the Spanish Club, said. "I have lots of friends in this club and look forward to being there to support them whenever I can."
Many faculty and students were waiting with videos and camera for the confirmation of President Bernie Ploeger affirming the entrance of Mary and Joseph.
Students were then invited to decorate a Christmas tree in the Student Center and enjoy some traditional Mexican food prepared by the La Familia Spanish Club.
The whole event was a difficult task for the club as the food was hand made and took about five hours to prepare. Three of the dishes were made the day before the event while two were made right before the event.
"I think the event turn out awesome, way better than expected," Romero said. "I know we can do so much better for the years to come, but due to the lack of time I think we did amazing."
About the Contributor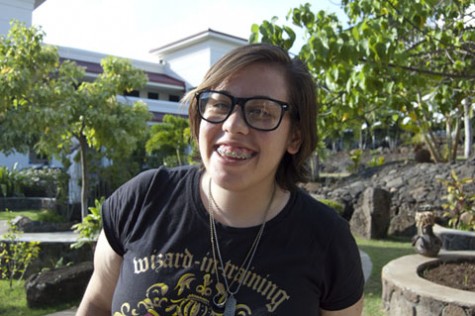 Jordan Zizzi, Staff Writer
Jordan Zizzi is a senior at Chaminade University majoring in broadcast communications. Jordan enjoys creating skits and videos along with writing as much...