Blood Bank of Hawaii gets support from Chaminade
Blood Bank of Hawaii's blood mobile made its stop at Chaminade and saw plenty of support from students and staff.
On average the mobile has 25-40 appointments a day said Nora Akiona who has worked for the company for 14 years.
Aris Springs, a sophomore, experienced first hand when his uncle needed two blood transfusion three years ago and since then has donated six times to Blood Bank of Hawaii and is scheduled for another donation in January.
"I donate mainly because I know it helps out people and its one of my goals to always help out any way I can," said Springs, who is from Guam.
Blood Bank of Hawaii visited Chaminade University last Friday, where it had a steady flow of donors throughout the day and reached its goal for the day and collected 40 pints.
Blood Bank of Hawaii's annual goal for Chaminade was 250 pints and after last Friday a total of 252 pints has been collected for the year. There is always a need to find new donors state wide because on average 7,000 donors are lost each year.
About 60 percent of people will need blood in their lifetime; unfortunately only two percent of Hawaii's population donates blood.
Donors meet with the staff for registration. The actual process only takes five to eight minutes. During that time they extract one pint of blood. Donors are eligible for another donation after eight weeks.
A lot of people don't realize that one donation of blood can save three lives. Springs suggested that informational presentations could be held to better inform students.
At Chaminade, students have the opportunity to sign up for a donation when Blood Bank of Hawaii has a booth on campus. Walk-ins are also welcome when the Blood Mobile is on campus.
"I feel like im doing my share," Akiona said … Just having to see the satisfaction of people's lives being saved."
Blood Bank of Hawaii requires that donors be at least 18 years old or 17 years old with consent of a parent/legal guardian.
For those interested in donating the Blood Bank of Hawaii returns in January or stop by its location at 1907 Young St.
Honolulu, HI 96826.
For more information check out https://www.bbh.org/
About the Contributor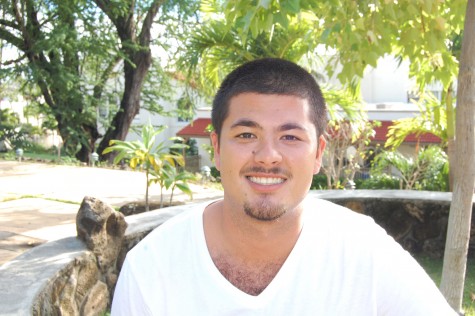 Joe Wakazuru, Staff Writer
Joe Wakazuru is originally from Seattle, Wash. He moved to Hawaii in middle school and attended Mid-Pacific Institute.  He is a senior at Chaminade University...