On a Monday night, most busy college students who are juggling classes, jobs, homework, and social lives would most likely turn to their campus library around 10 or 11 at night to knock out a few hours of studying and complete a couple assignments. If this was the Sullivan Library at Chaminade, students would find locked doors and a dark facility at exactly 10 p.m., forcing them to search for a place of study elsewhere.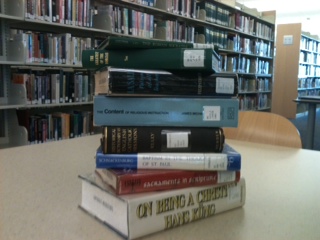 You would think that a university library, a fundamental feature of a college environment, would promote operating hours accommodating to the studying needs of students. Chaminade, however, restricts access to its library after 10 p.m. Sunday through Thursday and closing even earlier at 6 p.m. on Fridays. The library does not resume its hours until 8:15 a.m. on weekdays and this makes it difficult for students that have 8:30 a.m.classes and wish to research or work on assignments prior to class.
In fact, these limited time frames make studying and accessing the library at Chaminade difficult in general. Students that don't have printers of their own rely on those of the library's as well as its photocopy machines; others who live on campus depend on the availability of the library to escape the noise and distractions of the dorms.
When the nightly hour of 10 occurs, students have no choice but to find their own means of studying or completing school work elsewhere. Finals week at Chaminade is hardly any better; a two-hour extension is allowed, which lets students stay at the library until midnight. This is unrealistic because many college students have impacted schedules and thus have late bedtimes. They are not ready to commence their studying after midnight, let alone 10 p.m. on a regular weekday. Kyle Nicholson, a junior at Chaminade, agreed that these hours are far from ideal.
"As a college student, 10 p.m. is early and when I'm studying or just doing class assignments, time flies so fast, finishing my work at 1 a.m. is a norm. With a busy schedule and work from different classes piling up, longer hours would help a lot," said Nicholson.
What would be ideal and beneficial for Chaminade students would be a 24-hour operating library. One could make use of its printers, computers, and other resources, and take advantage of it being a safe haven of quietness.
Shamis Coughlin, a senior at Chaminade works the Help Desk in the Computer Lab at the library and agrees that the library at Chaminade must be open longer. Coughlin expressed that extended hours would benefit those cramming for tests and homework.
"Especially for study sessions, you know, when those happen the students want to stay longer and get in gear for exams…that's what they have at UH," said Coughlin.
The University of Hawaii at Manoa not only has two full libraries, its Hamilton and Sinclair libraries, but its three-story Sinclair facility is open at all hours. Sinclair runs 24 hours Monday through Friday and is open 12 p.m.-6 p.m. Saturdays. This is a large contrast to Chaminade's Sullivan Library which is only open for a mere five hours on Saturdays and remaining closed until late Sunday afternoon at 4 p.m. UH sophomore, Blake Yamasato, attends the Sinclair Library regularly and takes full advantage of its convenience.
"Personally, I have a hard time studying at home by myself, so I find it very comforting to know that if I ever needed to find a place to study I could just go over to Sinclair Library," Yamasato said.
"Sundays I would be happier if the hours were either extended passed 10 p.m. or started earlier than 4 p.m. since Sunday is one of the top days I do most of my studying," said Nicholson. "…The weekend hours and I are not the best of friends. If I have any other obligations on Saturday my chances of studying at the library are close to none since it's only open till 4 p.m."
During exam periods, weekends are included in UH Sinclair's 24-hour span, adding to the ideal college library reputation it has. Students are free to choose any time they would like to study at UH, and find a place known for quietness and focus.
"I usually go to library around 8 p.m. and the latest i would would be around 2 a.m.," Yamasato said.
As of right now, the future for a 24-hour library at Chaminade does not seem bright. However, there does seem to be some ray of light. It is not so much the cooperation of Chaminade's faculty in achieving an extension in hours but our own student body.
"The way we determine whether to extend hours…is to keep track of how many people are using the library," said Chaminade academic administrator, Dr. Larry Osborne. "If we have a situation such as there are three or four people…and were keeping the library open…it's kind of expensive to have a librarian there and the lights on for those three people. That's why we reduced the hours most recently."
It is a topic concerning money, staff members, and the number of students who are actually utilizing the library at various times.
"If we did have a request from, say, student government … what we would do would be to run another test. We would open the library until 11 or 12 for six weeks … just see if it's being used. If it's less than five people, then it probably isn't cost effective.
The most logical and effective approach for tackling this issue is not for students to complain about the limited hours but to make a request via constituted authority aimed at voicing concerns of Chaminade students, the student government. He explained it takes more than one librarian to run and maintain the Sullivan facility at a certain time
"Because of the way our library is built with two floors we can't keep the library open with only one person … you need at least two staff members, and then we pay extra for the security guards. It boils down to is it cost-effective?" Osborne said.
Extended hours cannot be accomplished unless more students attend and use the library. The busier the library is, and the more students that use it, will thus prove to administration at Chaminade that an extension is needed.
"If there was a large usage of the library, it would be open," Osborne said. "It's that simple."