CUH students volunteer at Palolo Elementary for Halloween
From Disney princesses to ninjas to even one little girl dressing up as Queen Lili`uokalani, the children of Palolo Elementary were beyond ready for Halloween.They were dressed in their best scariest, prettiest, and bloodiest costumes.
Trick or Treat Street, an event organized by Chaminade Campus Ministry, provides a group of about nearly two dozen students every year around Halloween the opportunity to volunteer their time at Palolo Elementary and play games, pass out candy and hang out with the kids.
In preparation for the event, the students stuffed hundreds of goodie bags for the kids. There were bags of every candy possible,making sure that every family was leaving with large amounts of chocolate and sugar.
At the event, there were stations for the kids, such as a coloring station, face painting station, mask making station, fake tattoos and a game station.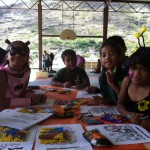 Once the kids were released out of class, all you could hear was screaming kids running around as they were super excited to play some games and get some candy. They were just so excited and happy to see all these students with numerous things to do. It was one of those moments where you know you had made their day by just being there.
There were children and their families going from one station to the next. Parents could not even keep track of their kids because they were running around everywhere from one station to the next. Anybody could tell that these kids sugar levels were skyrocketing.
The most popular station out of all the activities was the face painting station. All the kids wanted to get animals, butterflies and scary faces painted. Even though none of the volunteers were professional face painters, they each tried there best to paint the best of their abilities.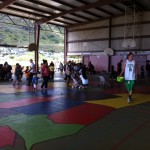 "I had fun trying to paint their faces," said Chaminade sophomore Maricelle Redona. "And even if I painted their face somewhat ugly, they seemed to appreciate the effort. It was just really rewarding to work with the kids."
All the volunteers loved the atmosphere the kids gave off. It just made the service more enjoyable and youthful hanging out with them and even getting to know them a little. Some of the kids even pulled little pranks here and there with the volunteers.
"It was an amazing experience to see children of all ages with disabilities with such joy on their faces," said Amber Alvarez, a sophomore at Chaminade. They didn't let their disabilities stop them from having fun. It was really nice to see such appreciation from the little things we did."
There is nothing like giving back to the community and spreading a little Halloween spirit.
About the Contributor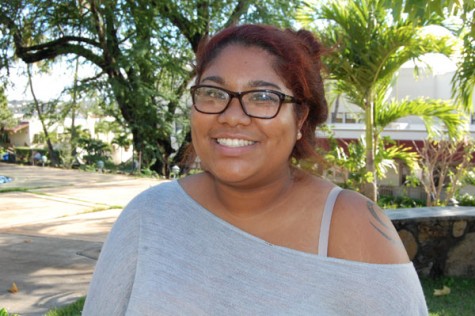 Tawnee Janae Rollerson, Staff Writer
Tawnee Janae Rollerson, a California-born native, is originally from Milpitas, CA. She graduated from Archbishop Mitty High School in San Jose, CA.  Tawnee...