Spooky night made fun for students
Once a year, people are able to dress up in whatever eccentric costume they please and parade around. Kids are able to go trick or treating while those who could went to Waikiki to walk the strip and take pictures with friends and strangers alike. However, Chaminade University provided another alternative for the night's festivities.
On Halloween night, Chaminade Student Programming Board set up a dance for students in the Student Center who wanted to have fun outside of what was already provided in the Honolulu area. About 30 students came throughout the night, all who participated in the dancing.
"I went to the Halloween dance because I wanted to dance, hang with friends, and to have a safe night at Chaminade, rather than in Waikiki," said Kanaloa Ducosin, 18, a freshman at Chaminade.
Many students came in costume as the dance started at 8 p.m. Some of the characters there were Katy Perry, Madea, a tourist and K-Pop singer Psy.
As the dance progressed with music provided by DJ Kirk and emceed by Kuldip Shergill, there was a chance for students to compete against one another in a dance battle. When "Teach Me How to Dougie" began to play, five students took turns jumping into the middle to show off. In the end, two students dressed as Teenage Mutant Ninja Turtles ended up winning the battle.
"Lots of people were dancing and that was a lot of fun," said Alexis Peterson, 17, a freshman at Chaminade.
About a half hour after the dance battle took place, the night took an unexpected turn. As the fog machines pumped out a cloud large enough to fill the entire student center with a fine haze, the fire alarm was set off.
Though the music continued to play for a minute or two after the alarm went off, students were ultimately ushered out of the Student Center as doors and windows were opened to allow the fog to leave. While outside, students occupied themselves by either fooling around or congregating in small groups to chat.
After about 15 minutes, students were able to go back into the Student Center and jumped right back into dancing as the music resumed the night continued without another incident.
"I didn't think much of the fire alarm going off, but because a lot of people left for Waikiki, it was a bit of an unfortunate turn off," Ducosin said. "But when the music turned on, it felt like the fire alarm didn't happen. I'm looking forward to next year's Halloween dance night."
About the Contributor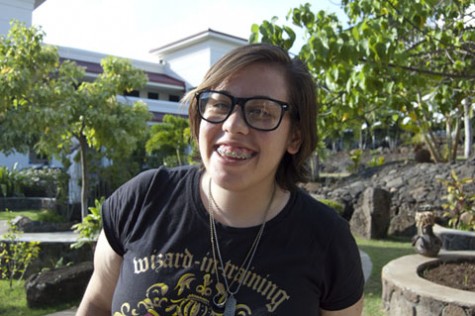 Jordan Zizzi, Staff Writer
Jordan Zizzi is a senior at Chaminade University majoring in broadcast communications. Jordan enjoys creating skits and videos along with writing as much...