CUH welcomes NOH8 campaign
Chaminade University, being a Marianist college, is usually caught in the stereotype of being strict and conservative because of its religious values. Nevertheless, the school has given opportunity for students to express themselves.
Oct. 11 was "National Coming Out" day, and CUH's Gay-Straight Alliance Club hosted a NOH8 campaign to emphasize gay rights and equality for all.
The NOH8 campaign is a silent protest that symbolizes the voices of citizens being silent since Prop 8 – marriage only between a man and a woman – was passed. The photos are faces of people from all ages, genders and races with duct tape over their months and "NoH8" written on their cheeks.
At CUH last Monday, Wednesday and Friday, students were able to get together on campus and silently protest against discrimination. The club provided the cameras and all supplies for the photos. After the photos were taken, they were sent to the NOH8 campaign website.
"We aren't necessarily saying if you are taking photos it means that you are supporting LGBT rights," said Kathryn Izumi, a senior and the president of the Gay- Straight Alliance Club. "It means supporting human equality, gender equality and love for all."
Izumi hopes the NOH8 on campus will bring awareness and knowledge of what is going on in the LGBT community.  She expects students to be supportive for those that do not have their rights yet.
"Students are very timid," said Mckenzie Hoover, a junior and GSA vice president." First thing in the club you see 'gay,' and they see that and walk away."
Hoover explained that the club is not a "gay club," but a gay-straight alliance, a group of allies all together that accepts each individual and their choices.
"It's a good thing to be taking pictures, to be laughing and having a good time," Hoover said. "And nobody is lesser than anyone else in the room, and it's a good feeling."
She also stated that she feels the support from the school. Brother Bernie, Chaminade's president, blessed the club's food before the event started. His prayer was not just about sexuality but also about everyone having equal opportunities to make their own choices.
"There should be no hate in the world, and that is a big thing I think everyone should have goal for," Hoover said. "To not have any hate in their life or negative feeling."
About the Contributor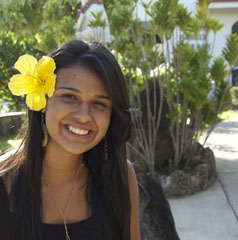 Suse Sampaio Simoes, Staff Writer
Suse is a senior at Chaminade studying Communications (broadcasting) and Political Science. She was born in Bahia, Brazil, where her passion for dancing...