A White Sunday
The second Sunday in October, known as White Sunday, is the celebration of children. Traditionally, the children host the service for everyone and it symbolizes the importance of kids in the church community. It's an opportunity to get the children involved in religious activities.
At the beginning of this year's mass, held on Sunday, October 14, the president of the Lumanaʻi O Samoa Club (LOS), Alexander Fuata, gave an introduction speech, first in Samoan, then in English. He explained what White Sunday was and thanked everyone for attending and celebrating with them.
He also jokingly added in another reason why it was a good day to celebrate because it is also when all the children get new shoes.
"It's a way of learning about both religion and sharing it with the community," Fuata said.
"White Sunday gives you the chance to spread the knowledge to the people," said Fuata.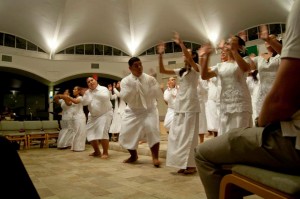 As a part of White Sunday, LOS performed. Anyone who attends the White Sunday mass here at Chaminade always says it is the best part of the mass. All you see in the crowd are cell phones, cameras and video cameras in the air waiting to hit record.
Right when they started to perform, everyone in the audience was cheering, clapping, and just full of excitement. It was just an all-around celebration. All the songs they performed were all sung in their native language.
They also performed a skit based on the Biblical story of when Jesus raised Lazarus from the dead. This year's theme for their performance was "Thank you Lord."
"Although he comes late, it is not our choice when God is supposed to be there," said Fuata. "God is never late, and we should go by his time. People should still be thankful even if they think he is late."
After mass was finished, everyone who attended raved on and on about how well put together the mass was and how much time and effort was put into making it possible.
"These young men and women and their mentors, many of whom are CUH graduates, continue to stay connected to their Samoan culture, customs and tradition including their coordination and celebration of White Sunday. Though many of the members are not Catholic, the members have been very gracious to include a Catholic mass as a part of their celebration. I believe that in Samoa, their parents and elders would have served them as the guests of honor, but again these students served us" said the advisor of Lumana'i O Samoa, Margaret Uiagalelei.
White Sunday is such a good way to share the Samoan culture with the community. It is also another way to get people involved and learn something new about a culture they aren't necessarily familiar with.
"We had many non-Samoan members and even non-Samoan speaking members participating this year," said Fuata. "They dedicated the time to participate and practice and how it is to be involved. They were able to grasp the importance of the holiday and what it means to be Samoan."
This is such a great opportunity, for not only the Samoan club but also the other cultures here at Chaminade, to bring a piece of home to the community.
"Since Chaminade and Hawaii are already so diverse, it is good to have cultural masses instead of the general luau. And it gives other cultures an opportunity to share what they do back home," Jessika-lyn Garcia, a Chaminade senior, said.
About the Contributor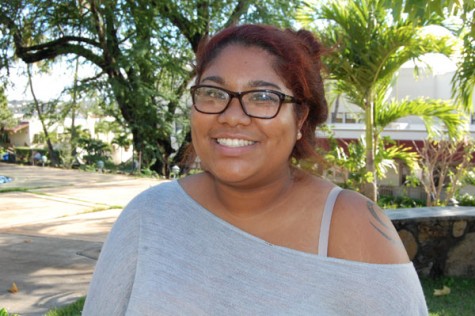 Tawnee Janae Rollerson, Staff Writer
Tawnee Janae Rollerson, a California-born native, is originally from Milpitas, CA. She graduated from Archbishop Mitty High School in San Jose, CA.  Tawnee...