Radio CUH gives students chance to 'express' themselves
Radio CUH, which has been in existence for nearly one year, averages 0 listeners most of the time. At its peak, the online radio station will boast 10 listeners at any given time.
But the true success of the first year of Radio CUH is not in the number of listeners but rather in its existence at all. The product of the hard work of Tom Galli and a handful of students, Radio CUH is a growing program showing potential.
Senior Lecturer Tom Galli, who has been a full-time faculty member in the communications department for the last 10 years, started Radio CUH with money that was left over from a grant.
As Radio CUH approaches its first-year anniversary, it shows some improvement and growth from last year. With more than 24,000 songs in its library, Radio CUH continues to grow. An average of 20 hours a week of new music is added every week. Keeping up with this as well as filling airtime with DJs is a challenge Radio CUH faces.
He was a slightly indifferent about adding the radio project on to his list of priorities but took on the challenge nonetheless.
Although Radio CUH has seen no money from Chaminade University, it still is alive and "nothing but kind words about the concept from up above (the administration)," Galli said.
"One of the nice things about Chaminade compared to other places I've been is that the administration is really hands off for the most part," Galli said. "They are really quite content to let the programs run themselves and decide what their priorities are."
The challenge Radio CUH faces is that it is difficult to keep students involved and putting in hours on air. Galli has a strategy, though, and some enthusiastic students that have made the radio room their second home.
"Getting people who are both committed and excited is always the biggest challenge, and there's no magic formula for that," Galli said. "You just cast the widest net that you can, and then the individuals who come in, who really are excited and really are motivated, you just cherish them and support them any way you can."
One student that has seen Radio CUH as an avenue to communicate his beliefs more in the university is Terrance Aikens, a junior at Chaminade University. Aikens enjoys the freedom of being able to go on air and play music that interests him.
"Just to be able to express yourself," Aikens said. "… Currently right now I'm on the Chaminade air, but I'm running gospel hour so I'm only playing gospel and religious music."
This time next year, Professor Tom Galli would like to see an average of 15-20 listeners and increase student involvement to 10-12 hours a day of broadcasting, while the rest is filled with an automated system that randomly plays music.
A Chaminade radio club has recently been formed, where it had 18 students sign up at Club Fest. There are also another 17 students in the radio class. Galli said his goal of reaching 10-12 hours a day of broadcasting should be attainable, even if only half the students stick with it.
Right now the majority of listeners come from friends and family of whoever is on air. Aikens sends texts to friends and family to tune in whenever he is on air. He would like to see more promotion, because a lot of people at Chaminade just don't know about Radio CUH.
"The first area that we can venture into is always making Radio CUH be a part of events," Aikens said.
He added that he would like to broadcast and display banners at sports events and student events such as an open mic in the courtyard.
Currently Radio CUH has the equipment for broadcasting at events but lacks the manpower. With some guidance from Galli, Radio CUH could be airing these events soon.
Over the next five years, Galli would like to see at least one full-time faculty member overseeing Radio CUH, and assigning students to paid positions to facilitate. The need for space will soon be a necessity as well. Right now the radio room resides in what used to be a closet on the first floor of Eiben Hall. For these changes to happen, a stream of revenue to Radio CUH from Chaminade would need to begin, he said.
Radio CUH has made progress. Although it appears minimal, the Chaminade community has a functioning Internet radio with an enthusiastic group of students and staff.
"In order for this to move forward, you have to be excited about it," Aikens said. "Just like anything in life, if you're not excited, why should the people you want to follow you be excited."
About the Contributor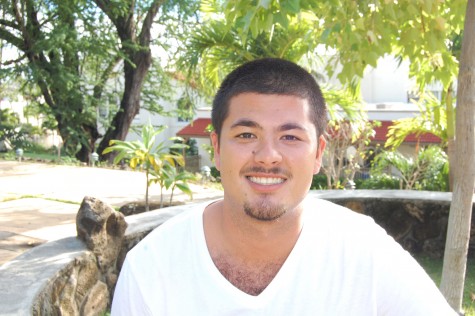 Joe Wakazuru, Staff Writer
Joe Wakazuru is originally from Seattle, Wash. He moved to Hawaii in middle school and attended Mid-Pacific Institute.  He is a senior at Chaminade University...