New parking garage to alleviate parking headaches
Chaminade junior Victoria Barayuga who lives in Mililani, wakes up at 5:30 a.m. every weekday just so she can get a good parking spot at school. It takes her nearly two hours to sit through traffic and drive the 21 miles from home to campus to arrive in time for her 8:30 a.m. class. By the time she gets to school, there isn't any shady parking in sight. After driving around Third Road, she is left with the parking at the top of the hill, which is bombarded by the sun the whole day.
This daily struggle for parking has been a repeated issue here on campus.
"Parking is an issue on any college campus, two of the things people complain about is parking and food," said Grissel Benitez-Hodge, dean of Students. "People always want close parking. It's not so much that we don't have enough parking, we just don't have desirable parking."
But the parking headache that has plagued Chaminade will get diminished on Monday, September 17, when the newly built parking garage near Henry Hall and McCabe Gym will open, helping with parking issues and reducing students' stress over parking on campus.
The new parking garage was built by the Marianist Center of Hawaii, to be shared by Chaminade University and Saint Louis School, according to Aulani Kaanoi, vice president of Finance and Facilities. It includes 228 parking stalls, an elevator, and a Saint Louis Gathering Area on the top floor.
For Chaminade, 112 of the parking stalls are designated for use. There is no daily fee for parking in the garage you just need a current parking permit from 6 a.m.-4 p.m., which is $170 per semester for Chaminade students and is available for purchase at the Business Office.
"The parking structure is something to be excited about," Kaanoi said. "It is a beautiful addition to our campus and will provide 112 new stalls in close proximity to our lower campus buildings."
Without the new parking garage, there were approximately 500 parking stalls available to Chaminade. Even with all that parking, some students were unable to park unless someone leaves.
"For the amount of students we have on campus, it looks like we don't have enough stalls to accommodate for all of the ones who buy a parking pass," said Katherine Salvador, freshman at CUH. "I see a lot of students driving around and around looking for parking and waiting for people to leave because all of the parking stalls is taken."
"I hope the parking garage will alleviate the problems students and faculty face with parking," said Robert Steigerwald, a security guard in his first year at CUH.
He also sees that parking is a problem on campus daily through the tickets distributed due to parking in the wrong stalls, taking up two stalls, and for not having a parking permit, just to name a few.
Having the new parking garage is a much-needed and welcomed improvement to the Chaminade campus.
"It's a great change, I personally relocated my vehicle parking stall in there, because I'm looking forward to have my car parked, in a shaded area. … I'm very excited about it," Dean Grissel said. "I think, the parking garage, for security it's better, it's concentrated, it's easier for us to keep track of who is in and out of the campus and who is parked there. … It's really nicely lit at night, and it is has a nice addition to campus landscape. We are very fortunate to have it."
About the Contributor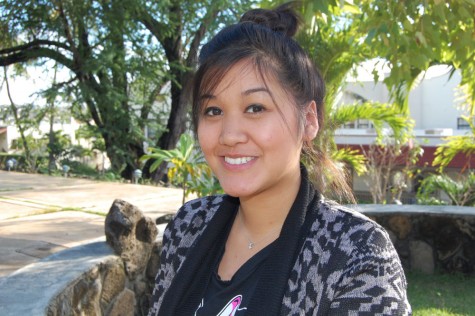 Carol Stacy, Staff Writer
Carol Stacy, a local Honolulu gal, is a junior studying Communications Marketing. Graphic design, photography, and fashion interests her, but one of her...