Study Abroad Fair entices students to travel, experience new cultures
Students that are interested on traveling and studying outside of the country stopped by the Study Abroad Fair held last Thursday. Semester at Sea and AIFS were the two programs recruiting students and sharing experiences.
"I want to learn about how other people work and how they learn from different cultures," said Pomai Chandler, a freshman studying biology at Chaminade. "I want to see how people do things differently other than America, other than Hawaii."
Chandler has traveled to some parts of the mainland, but never left the country. She is from Waipahu, and has a great desire to study biology internationally. She wants to learn different techniques and gain new experiences within her major, as well as gaining knowledge about other cultures.
She stopped at the Semester at Sea booth and talked to Isaiah Allekotte, a territory manager that recruits students from states such as Hawaii, California and Nevada.
Allekotte is from Northern California, and is a graduate from Chapman University and also a Semester at Sea alumnus. He sailed around the world on Spring 2009, and since then, his passion for the program has grown. He worked at the study abroad office in his school for three years, and after a lot of browsing through the Semester at Sea's website, an opportunity was offered. He has been working for the program for a month now, which requires traveling to 35 different campuses during traveling season.
"You have to convince them, you have to show your passion for the program and show the great time you had, but also just giving them the facts," said Allekotte about his job. "So I mix it up between the academic side of things, the personal growth you have, and the main stories of how rewarding it was to learn about these countries and meet people from different places."
Allekotte believes that although the experience feels like is over, since there is a beginning and an end, it is actually the first step; and most importantly, is to be able to implement all the knowledge gained on this adventure back home.
He still keeps in touch and has a strong bond with friends from the ship and also took his family to India, one of his favorite countries from his voyage itinerary.
"It is really a learning experience; you learn about the world, and also learn about yourself," Allekotte said. "It's a journey inside of yourself as much as is it is in these different countries."
Mary Valdez has been in charge of the study abroad program at Chaminade University for the past two years. She is the chair elective of NAFSA, an association of international educators, which combines study abroad and international conferences educators in order to brainstorm and better programs in their institutions and third-party providers, like AIFS and Semester at Sea. Next year she will be the chair for the Hawaii Pacific region.
One of Valdez's goals at Chaminade is to improve the program. Now, an average of two or three students study abroad per semester. The most-wanted destinations are places such as London and Australia.
"There is definitely an interest there, whenever I do my presentations for my students, whenever I talk about the academic advising side, I can always tell I am losing them,"
Valdez said. "But then I bring up the study abroad subject, that's how I always get their attention again. I think is more of just getting the awareness, plus not to mention people think it's costly, but they don't realize there is financial aid."
Studying abroad is possible for anyone with willingness and desire. The opportunities are out there.
The next study abroad fair will be Sept. 26 on the courtyard at 12:30p.m, with programs offered by the University of Hawaii study abroad and Hogan programs.
About the Contributor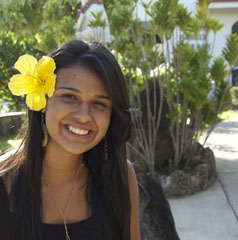 Suse Sampaio Simoes, Staff Writer
Suse is a senior at Chaminade studying Communications (broadcasting) and Political Science. She was born in Bahia, Brazil, where her passion for dancing...