Life Foundation presents Cirque Du SoGay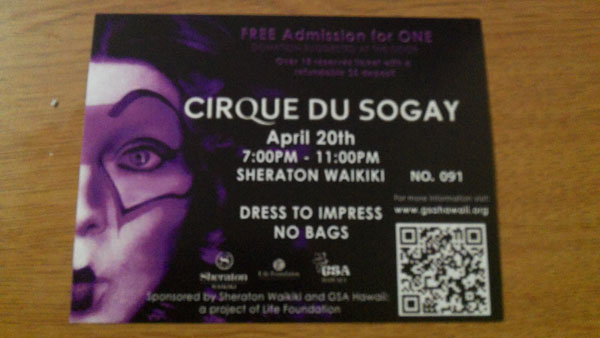 The tireless efforts of a 20-year-old Chaminade student is coming fast around the corner as Kathryn Izumi and Life Foundation make sure that the first gay prom is a success.
After an entire school year of coordinating meetings with other Gay Straight Alliances around the island of Oahu from colleges and high schools, Cirque Du SoGay will be open to everyone of all sexual orientations and those who are over the age of 18 at the Sheraton, Waikiki on April 20.
The purpose of the event is not only to have fun with other colleges and high school campuses who are LGBT-friendly, but to inform everyone on the island that being of a sexual minority does not make you different from anyone else.
"The event is serving as a sort of kick-off event for all Hawaii school campuses that have a distinguished GSA club to let our respective campuses and communities know that there is an existing GSA club where people can feel free to check it out," Izumi, 21, a junior at Chaminade University said.
The idea of having a gay prom is to help raise awareness of the LGBTQ – lesbian, gay, bisexual, transgender and questioning – community by starting with an event to let the island know that there are high school and college clubs that support those who are of a sexual minority.
Life Foundation, who has been working along side Izumi with the event, is a non-profit organization established in 1983 that is dedicated to stopping the spread of HIV and also assist people who live with HIV and AIDS. They have been a huge contributing factor in making the event possible as well as putting the event together.
What makes this event so unique is that the entire venue was donated by the Sheraton, Waikiki and the performers volunteer their talent for the entertainment of others.
Talent like local DJ Protokol who will be providing the beats from the 80s, 90s and today. Though still in the works, local drag queens are still being confirmed to do some live performances. However, Izumi is certain that they will make their appearances throughout the night. There is even the possibility of an aerial silks performer and professional dancers providing their talents for the night.
"To me this event is perfect because it gives the gay community a night to just be themselves which is what majority of us humans want in life," DJ Protokol, 21, said. "And because possibly in high school they never got to have an opportunity like this because it maybe wasn't allowed. I can see this event soon becoming an annual event with all the support that it is getting."
Pre-sale tickets are a refundable $5 to those 18 and above and a non-refundable $10 at the door. The money from the tickets that sold at the door and those who choose not to get their money back in the pre-sale tickets will go to GSA Hawaii/Life Foundation.
Doors open at 6:30 p.m. and the festivities go from 7 p.m to 11 p.m. Non-alcoholic mocktails will be served as well. Izumi encourages everyone to come in costume, though not necessary. For tickets or more information, contact Kathryn Izumi at [email protected] or (323) 899-3415. Pre-sale ticket sales end on Wednesday at 1:30 p.m.
About the Contributor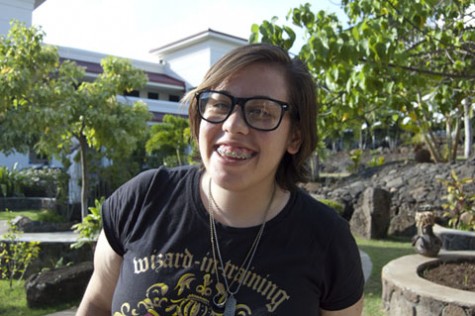 Jordan Zizzi, Staff Writer
Jordan Zizzi is a senior at Chaminade University majoring in broadcast communications. Jordan enjoys creating skits and videos along with writing as much...