Moiliili gathers to clean up community
Maintaining a safe and clean environment throughout the districts of Honolulu might not be a concern that comes to mind for Hawaii's leaders and community members, or so it seems. Usually, all it takes is a few good people to step forward and implement change and the neighborhood will join in.
Last Saturday, April 14, a group of good doers got together to clean up Paani Street located at Moiliili near McCully Street. Members of the district, who call themselves "The Pride of Moiliili," along with volunteers, gathered 8 a.m. in front of the Waiola Shave Ice Shop to prepare for a hard day of cleaning and improving their environment.
"The Pride of Moiliili" was founded around three years ago by Gregory Cuadra, who is currently serves as the organizer of the group. He has been a resident of the area for about 12 years and is also a board member of the Moiliili District.
"I would walk around and just see the conditions of the gutters, the streets and the people that don't cut their grass," Cuadra said. "We came out to try to make the community a better place and we try to get the neighbors and anyone else who's interested involved."
It takes more than one person or entity to make a difference. Due to a high volume of online publicity, appearing for local news stations and, undoubtedly, through word-of-mouth, "The Pride of Moiliili" is able to pull together about a dozen helpers every month to clean a street.
The City and County of Honolulu also contribute by providing gloves, vests, trash bags, and other tools needed for cleaning up. Police officers were present to make sure everything stayed peaceful.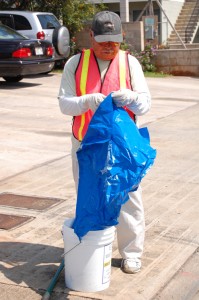 John McCombe, 68, is a resident of the district who has been helping with the project ever since it started three years ago. He tries to make it to every project date and has not missed too many of them.
"I come as much as I can," McCombe said. "As long as I can move, I'll help."
Cuadra is working on getting board members from other districts to join in, learn and hopefully put to use the same methods in their area.
The "Pride of Moiliili Project" is a good thing and can be a tipping point to increasing and promoting a cleaner and safer neighborhood in the Moiliili and McCully District, and hopefully in other districts as well if carried out.
"We have a different crowd every month," Cuadra said. "Today we have a couple Japanese students from Tokai University down the street. We also have a couple from Waikiki, folks from nearby districts, and of course the rest are Moiliili residents."
Megumi and Anri, who are originally from cities near Tokyo and are currently juniors at Tokai University, try to help out when they can.
"It's a good way to make friends," said Anri with a strong Japanese accent.
Next month's event will be a clean up of University Avenue. Cleaners and volunteers are to meet at the parking lot of the Moiliili Honwanji Mission Saturday, May 11, 8 a.m.
About the Contributor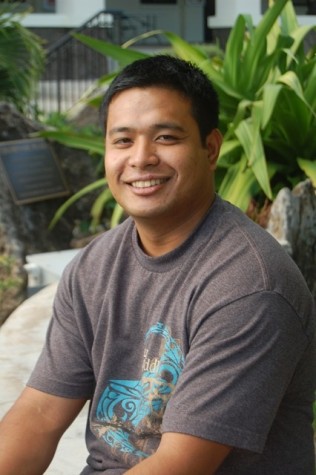 Patrick Reeder, Staff Writer
Mr. Patrick J. Reeder was raised in Hawaii Kai. After completing high school and saving up enough, he moved to Santa Barbara, CA. to party it up. Eventually,...