Can you spell FUN?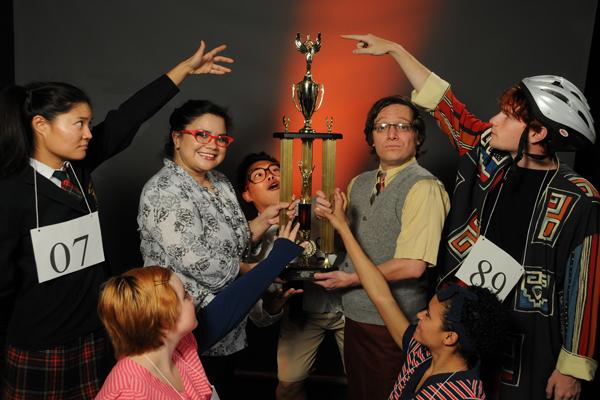 Chaminade Spring Musicals have had a large cast in the past. "Fiddler on the Roof" had a cast of 50; "Oliver" had a cast of 45.
For a change Bro. Gary Morris has decided work with a smaller cast of 13 people this semester to produce "The 25th Annual Putnam County Spelling Bee" and will open at Mamiya Theatre on Thursday, April 12 to Saturday, April 14 at 7:30 p.m. and Sunday, April 15 at 4:00 p.m.
"It's become more and more difficult to rehearse with big crowds in the small theatre we have," Morris, director of 'The 25th Annual Putnam County Spelling Bee,' said. "We don't have a big enough space for it. With this show, it's much easier to rehearse. Plus big show shoes require big sets, we don't have any place to build sets."
Auditions were held toward the end of January where around 38 people casted, went to the Humanities and Fine Arts Office to pick up a CD and began to learn to sing songs that they felt they were capable of handling.
"It's a smaller show but it is an ensemble," Morris said. "It does demand a lot of solo singing. Besides chorus, they all have to sing together and work together in choral piece as well as each of them sings their solo. We didn't have sufficient solos; every student has to sing one or more solos. We had students that could do secondary roles but couldn't really do the primary solos."
Despite working with a smaller group of cast members for the upcoming musical, Morris said that it was a much easier job to direct this musical compared to previous musicals.
"Comedy is hard to do if you don't have a cast that's funny and comic by nature," Morris said. "If we didn't have this cast it might not work as well. Everybody knows how to be funny. It's self-contained. The whole thing has a lot of improvisation and the whole thing is funny. There's not two minutes to go by that you're not laughing at something."
Unlike previous semesters, when scheduling with a large cast has been a challenging task, this semester has been easier due to the smaller number in cast. Cast practices have been on a regular basis throughout the semester. Soon after the auditions, in around February, practices began for four times a week and ran on Monday, Wednesday and Friday for two hours at night. The cast also has additional practice on Saturday for three hours.
Due to the smaller number of cast members in this semester musical production, Kaipo Leopoldino, a sophomore at Chaminade University playing Chip Tolentino, one of the six main characters in the musical, mentioned how different this cast is compared to any other cast that he has been in before. Brittany Torres, a junior at Chaminade University playing Olive Ostrovsky, stated this musical to being fun, alive, upbeat and having so much color.
"It's a nice, small, tightly knit group of people," Leopoldino said. "We've very much been growing in friendship, blossoming in friendship."
"We are all of similar age," Torres said. "If anything, we all act the same age. It's interesting to watch everybody do his or her own thing. I feel like I can go up to anybody and have a conversation because that's how comfortable we are."
According to the cast and director, this upcoming musical will produce a night of pure entertainment and a total fun night. It is an experience that the cast and director wouldn't want any audience to miss. Leopoldino said how he feels that the audience can relate to parts of the musical that happen to the characters in the musical.
"You're going to be laughing almost every second and enjoying yourself," Torres said. "It's meant to purely make you laugh, smile and make you feel good about it and life."
Tickets will cost $20 for general admission, $10 for children, seniors, military, and Chaminade students and are available at the Humanities and Fine Arts Division Office at Henry Hall Room 206. For advance tickets, call (808) 735-4827.
About the Contributor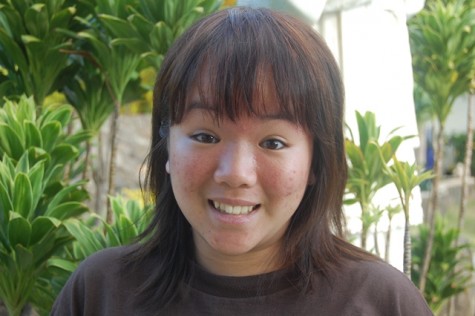 Claudia Chan, Staff Writer
Claudia grew up in the busy city of Hong Kong and came to Chaminade University two years ago to pursue her college degree. She is currently in her third...