RHA Valentine's day program – "Got Love?"
Throughout each academic year, Chaminade Residential Hall Association (RHA) organizes a variety of activities and programs to give back to the residents.
On Feb. 10, RHA organized an event called "Got Love?" at Eiben Hall. About 30 students gathered together to have a night of free dinner and prizes. This event was initially organized for couples, single girls and single males to get together, enjoy and meet new people.
"It's nice to see that people came through," said Daisy Jimenez-Antonio, a freshman at Chaminade University and organizer of the event. "It's good to see that people are talking, walking and mingling around. That's the whole point of this event, to enjoy everyone's company and have nice food."
Bucca Di Beppo provided the dinner including family sized spaghetti, cream based pasta, salad. RHA also provided a wide variety of prizes including Victoria's Secret gift card, a gift from Bath and Body Works and many more.
The room was clearly distinguished into three parts. As you entered through the front door, the serving table was on the left, eight tables were closely packed in the middle third of the event room and the dance floor was on the right hand side of the room.
Throughout the night, there were games specially made for couples, single females and single males. Everyone had an opportunity to win a prize.
The aim for the couple's game was to see how well couples knew one another. One person had to sit on a chair and the other stood a distant away from their boyfriend or girlfriend to answer a question to see how well they know their boyfriend or girlfriend.
Another game was designed for the single females to see how well they knew specific songs. A song was played and the objective of the game was to finish the song and continue singing. A final game was designed for single males to see how well they knew sports events. Participants that were able to finish the song, or answer the question, were given the prizes.
One student participated in the event because of the free food that was offered. He mentioned that the prizes were expensive and attractive. When he heard that free food would be served at the event, it also attracted him to attend this event.
However, this student, who asked to not be named, also mentioned portions of the event that he was not satisfied with. He specifically stated that the couple's game did not seem to be well prepared. An additional comment of the music played at the event was also made.
"I think that they should have made a play list," the participating student said. "It looked like they were scrolling through the iPod."
Another student also felt that the prizes were attractive and stated that it was one reason that attracted her to go to the event.
"The prizes really attracted a lot of people to actually come to the event," said one female student, who asked for her name not to be used, that participated in the student.
She mentioned that the music that was played was chosen well and up-to-date. This female student enjoyed the food that was served at the event, but thought that the tables could have been spread out and the decoration could have been emphasized in a romantic manner. She felt that it was hard for participants in the opposite direction to turn toward the stage when a game was in-progress or a host was talking. She also felt that the table set-up could have been improved, and been more romantic to make other participants feel like a special occasion.
Based on the turn out of the event, Jimenez-Antonio mentioned that she did not expect to see so many people come to the event. She hopes that an event like this can happen every year on a Saturday before Valentine's Day.
"It is what you make it," said Jimenez-Antonio, in response to the positive and negative feedback from participants who came to the event. "I'm a freshman here so I'm new to how everything works. That was my first event that I helped Dyon (Auguste, who helped organize the event) put on with so for being new, a lot of people did come through."
Jimenez-Antonio mentioned that she had fun to help out at the event improvements to work on, but she mentioned that overall everyone had fun.
"Now that I know things that we have to work on, next time we'll definitely make it better," said Jimenez-Antonio.
About the Contributor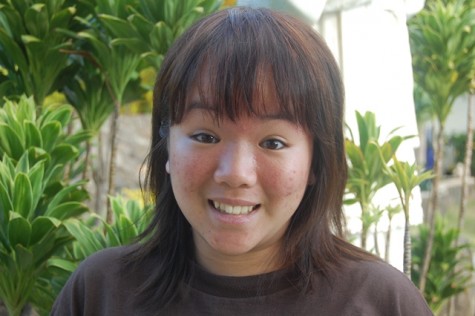 Claudia Chan, Staff Writer
Claudia grew up in the busy city of Hong Kong and came to Chaminade University two years ago to pursue her college degree. She is currently in her third...