Chaminade University hosts National Wear Red Day
Chaminade University joined the American Heart Association (AHA) Friday, Feb. 3, for its annual drive to raise awareness about heart disease. Heart disease is the number one cause of death for women in America – more than all known cancers combined.
Chaminade University's Student Support Services hosted the National Wear Red Day at the Vi & Paul Loo Center on Feb. 3 where they set up a booth with handouts about facts on heart diseases and the ways to prevent it. Students and staff were asked to wear red on that day. The AHA, along with other organizations like the National Heart, Lung and Blood Institute (NHLBI), introduced the red dress as the national symbol for women and heart disease in 2003. Red has since been the color of choice for the symbols of their advocacy.
"This is a more passive program," associate dean of students Allison Jerome said. "We're supposed to be promoting heart health awareness especially in women, but also for men. And so we're just trying to get information out there to the students like, be active, be careful with what you are eating and knowing your numbers in terms of your weight, your cholesterol, all that sort of stuff."
Chaminade fights heart disease outside of this event. Off-curriculum classes like yoga and muay thai are being offered to students for free. Clubs like the Football Club and the Rugby Club entice students to exercise while playing their favorite sports. The geography of the school forces the students to walk up and down the hill when they go from one class to another.
"Basic things are like, students always say that one of the worst things about Chaminade are the hills," Jerome said. "But actually walking up and down the hills have great benefits for you. Talk about getting your 30 minutes of exercise a day."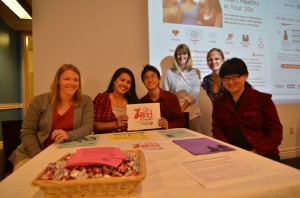 The university has also done its part in making sure that the students are eating properly in school.
Aramark Dining Services is the provider of the food in the dining hall and the Courtyard Café. The student government has met up with the company over the years to ensure that healthy food choices are served to the students. Aramark Dining Services has been receptive of the student suggestion and has responded with changes like providing calorie count and nutritional information of the day's food.
Knowing your risk factors for heart disease is just as important as diet and exercise. Age, gender, race/ethnicity and family history are worth knowing in order to calculate your risk of heart disease according to AHA. Hispanic women for example are more likely to develop heart disease 10 years earlier than non-Hispanics, the foundation said.
High blood pressure, high cholesterol and obesity all contribute to heart disease and all can be inherited.
A video created by AHA, which stars actress Elizabeth Banks (Our Idiot Brother, Fred Claus) was also looped in the student center. It was about a mother in her 30's who was stressed out early in the morning and suffered a heart attack. Her jaw starts to cramp, her chest tightens, and she becomes disoriented and confused. Her son tells her that she might be having a heart attack, but she replies by asking if she "looks like the type of person who has a heart attack."
This was the most important message of that day according to Jerome.
"If you don't feel well, do not ignore it. Go to your doctor," Jerome said. "Neglect is a dangerous thing when dealing with a heart attack."
About the Contributor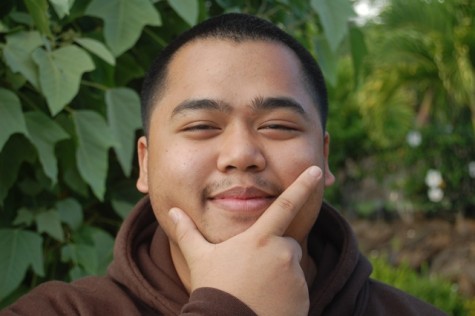 Rudy Vincent C. Juanito, Staff Writer
"Who am I? You sure you want to know? The story of my life is not for the faint of heart. If somebody said it was a happy little tale, if somebody told...