Founders Award presented to Angela Leilani Salas
A few days before the spring semester started, 21-year-old Angela Leilani Salas heard that Brother Bernard Ploeger, Chaminade's president, wanted to speak with her, and she immediately feared the worst. Thinking that she would be kicked out of housing or Chaminade itself, Salas' worry was lifted when she was told by Brother Bernard that she would be given the Founders Award.
"Angela lives the meaning of her name to the fullest," said Margaret Uiagalelei, who works in Campus Ministry as the retreat coordinator. "She is an angel, a messenger of God's love and hope and peace."
For more than a decade, Chaminade University has celebrated the works of its founder, Blessed Father William Joseph Chaminade, by holding its annual Founders Day Mass and award ceremony. Though three awards are presented, the Founders Award is a relatively new award that is presented to a Chaminade student.
Since 2004, Chaminade has awarded the Founders Award to the student who exhibited commitment to Marianist values by his or her outstanding generosity, respect for others and spirit of faith and who is an exemplary role model for the Chaminade community.
"I remember attending the Founders Day Mass and Awards presentation in 2009, and its still sort of surreal that a few years later I have the privilege of receiving this award," Salas said. "I am so honored to have even been considered."
Salas, a senior majoring in business administration, is a "religious scholar" and has been involved with Campus Ministry events, especially with the Awakening Retreats. After attending Awakening 20 her freshman year, she staffed every Awakening Retreat since. Salas also helped with the New Student Retreat last semester and will be attending the upcoming Women's Retreat.
"She is a leader who boldly enters and asserts her thoughts verbally, and then humbly and openly listens to the thoughts and concerns of others," Uiagalelei said. "She treats all as equals. She brings awareness to things that are not right and she works as a team player to keep things progressing. She does this all while being an outstanding student, too."
Along with being involved with campus ministry, Salas has been giving back to Chaminade. This semester, Salas, along with some of her peers and advisers, established the Civic Engagement Club where students are able to promote, engage and support civic engagements at Chaminade.
"We are trying to raise consciousness through events that shed light on social justice issues," Salas said.
Salas was presented with the Founders Award on Jan. 25 along with $250 that would go to any organization affiliated with Chaminade University. She plans on donating the money to the Civic Engagement Club.
Father George Cerniglia, who has been the head of the Office of Rector for the past year, explained the process in order to choose the recipient.
According to Cerniglia, an email is sent from the Rectors office to a broad spectrum of people. The email asks faculty members to submit the names of students who fulfill the requirements of the award as well as being a good example and a reason why the student should receive the award. After receiving all of the nominations, the faculty vote for a student to receive the award.
About the Contributor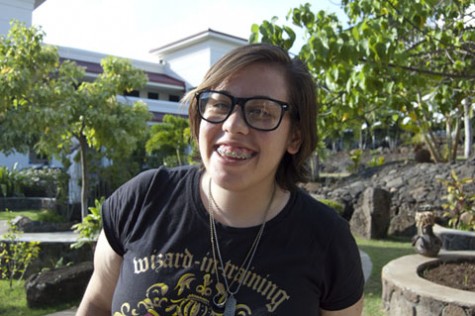 Jordan Zizzi, Staff Writer
Jordan Zizzi is a senior at Chaminade University majoring in broadcast communications. Jordan enjoys creating skits and videos along with writing as much...